Julich receives 2018 McCreery Teaching Award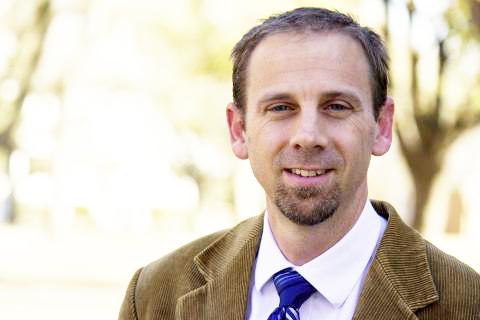 Dr. Daniel Julich, assistant professor of history and government at Sterling College, was given The William M. McCreery Teaching Award as part of the College's Commencement ceremonies on Saturday, May 12, 2018. The award recognizes and encourages excellence in teaching and is presented to a faculty member whose efforts have provided noteworthy and innovative instruction to Sterling College students during the academic year. The award was established in honor of Sterling College's fourth president, William M. McCreery, and has been awarded to one outstanding faculty member each year since 1977.
Julich has taught at Sterling College for six years and is a leader on campus in several capacities. In addition to being an assistant professor, he is department chair for The Department of Social Sciences. He also serves as director of the Honors Program, including Alpha Chi, the College's chapter of National College Honor Society.
Julich is described by students as having "an excellent way of informing his classes about real world issues and how we can address them through a positive impact." Members of the Sterling College Student Government Association said "His class sessions prompt discussions that make students integrate what they have learned into defendable arguments. All of his teaching is ultimately based in the truth of Scripture, and the end goal of his teaching is for student to be educated about how they can make a difference in the world."
Julich is also seen among faculty as "highly respected" and he "exhibits a thoughtful and peaceful presence." Among other compliments, Dr. Ken Brown finished announcing the award with the quote, "this professor is passionate about the intersection of thought and faith, in a way that inspires myself and others."
Sterling College is a Christ-centered, four-year college located in Sterling, Kansas, with a mission to develop creative and thoughtful leaders who understand a maturing Christian faith. For more information, visit
www.sterling.edu
.