Kansas Teachers Address Diversity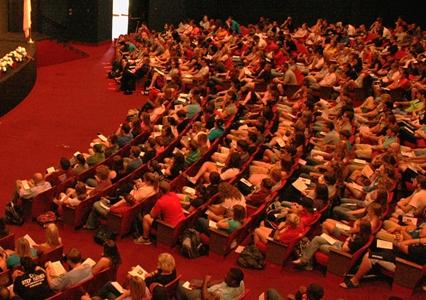 Wednesday, January 25, 2012
Students at Sterling College will have a unique opportunity to learn from seven distinguished educators who have been awarded Regional Teacher of the Year from the Kansas State Department of Education.
The student body will have a chance to hear this group address contemporary topics in education through a convocation entitled, "Making Connections in a Diverse World." In the afternoon, selected members of the education community will dialog with the teachers at a luncheon. The convocation will take place in Culbertson Auditorium on Friday, January 27, at 10:00 a.m. and is open to the public.
"We are very pleased for the opportunity to have such a distinguished group of educators on campus. With so many Sterling College students involved in missions, understanding effective ways to interact with diverse groups of people is important. This convocation will be great for both education majors and the entire campus community," said Terri Gaeddert, chair of the education department.
Gaeddert continued, "The convocation aligns with the Sterling College institutional objective to graduate students who demonstrate an understanding of the personal and civic skills necessary for a productive life of faith and service. To meet this objective, students must demonstrate intercultural knowledge and competence, ethical reasoning and compassionate action. The convocation topics address these issues." Speakers will cover relationships with family and students, class meetings, technology, classroom management, tailored instruction, bullying and cultural and linguistic diversity.
Convocation speakers include: Amelia S. Adams of West Middle School in Liberal, Kan., Sherry L. Helus of West Elementary School in Wamego, Kan., Christopher D. Christian of Pray-Woodman Elementary School in Maize, Kan., Michael C. Pickman of Prairie View High School in La Cygne, Kan., Emily K. Fleming of Hazel Grove Elementary School in Kansas City, Kan., Elizabeth A. Roberts of Wichita North High School and Carla Goertzen of Buhler Grade School.