KCAC Sports Management Conference hosted at Sterling College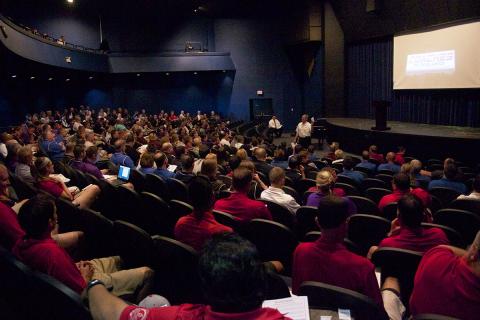 Wednesday, August 6, 2014
Over 250 coaches, athletic administrators, trainers and sports information directors gathered at Sterling College for the 2014 Kansas Collegiate Athletic Conference Sports Management Conference. The Aug. 5 meeting included a keynote address from national speaker Rod Olson, known as Coach "O". The day also held a State of the Conference address by Commissioner Scott Crawford, conference awards and informational meetings.
"It was great to have everyone on campus today to celebrate the accomplishments of last year and prepare for a new athletic season. The inspirational message of Rod Olson was full of reminders that coaching starts with relationships, authenticity and being a blessing to others. Olson's message and Commissioner Crawford's speech set the tone for a year of excellence and striving to reach new goals," said Gary Kempf, athletic director for Sterling College.
According to the KCAC Twitter feed, Crawford announced that the KCAC is "actively pursuing a 12th member school." The KCAC announced in June that Oklahoma Wesleyan University would become the 11th school to join the conference in the 2015-16 athletic season. It is currently the only school located outside of Kansas.
Headquartered in Wichita, Kan., the KCAC currently oversees athletics for 10 member institutions: Bethany College, Bethel College, Friends University, Kansas Wesleyan University, McPherson College, Ottawa University, University of Saint Mary, Southwestern College, Sterling College and Tabor College. The KCAC is a member of the National Association of Intercollegiate Athletics and has received the Champions of Character Five-Star conference award four straight years.
Sterling College is a Christ-centered, four-year college located in Sterling, Kan., with a mission to develop creative and thoughtful leaders who understand a maturing Christian faith. For more information, visit www.sterling.edu.