Keynote Convocation to feature Dr. Timothy A. Gabrielson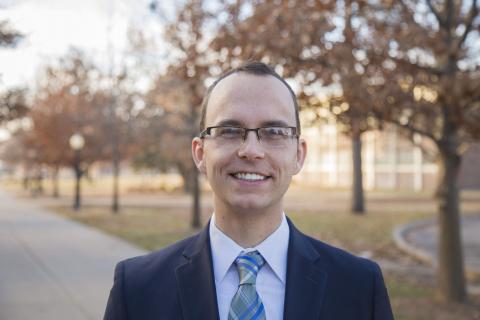 Wednesday, August 17, 2022
The first convocation of the Sterling College academic year will take place Aug. 19, at 10 a.m. in Culbertson Auditorium in Spencer Hall. Keynote speaker Dr. Timothy A. Gabrielson, assistant professor of biblical studies, will deliver his speech "An Education for Your Career — and Life" as students and employees gather to celebrate the start of classes. 
Gabrielson has served as a faculty member at Sterling College since 2016. He also serves as assistant director of the honors program at Sterling. Gabrielson holds a Ph.D. in Judaism and Christianity in Antiquity from Marquette University. He received his M.A. in Biblical Studies with an emphasis in New Testament from Denver Seminary, along with two B.S. degrees from the Colorado School of Mines—one in Mathematical and Computer Sciences and one in Economics. Gabrielson lives in Sterling with his wife, Amy, and son, Jack.
Sterling College is a Christ-centered, four-year college located in Sterling, Kansas, with a mission to develop creative and thoughtful leaders who understand a maturing Christian faith. For more information, visit www.sterling.edu.