Klings become Faculty Emeriti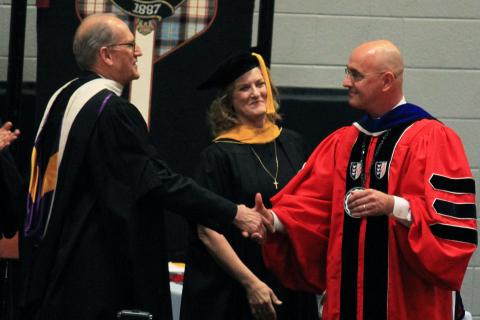 Senior Associate Professors of Theatre Arts Diane DeFranco-Kling and Gordon Kling were conferred the rank of Faculty Emeritus during the College's commencement exercises on Saturday, May 12.
The ceremony marked the Klings' retirement and the end of their 41st and 44th year of teaching for Sterling College.
In order to obtain Professor Emeritus status, a faculty member must have limited or terminated their responsibilities as a ranked faculty member, served for 15 or more years and reached a minimum of 60 years of age. Professor Emeritus status is designated and appointed by the Board of Trustees, after recommendation by the president, the vice president for academic affairs and the Faculty Status Committee.
Both professors said they enjoyed serving at Sterling College together. Diane encouraged the students to "Dream big. Work hard. And enjoy the journey."
Gordon followed by thanking everyone for the continual support of the theatre department and said, "Our greatest joy has been seeing students take hold, creating outstanding work and lay the foundation for their future as Christian leaders, educators and artists."
As their time at Sterling College concluded, they ended with the two pieces of advice they have been giving to students for years. "Have a great show!" said Gordon, followed by Diane who said, "And be brilliant!"