Kozlowski-Slone exhibits art in Michigan and California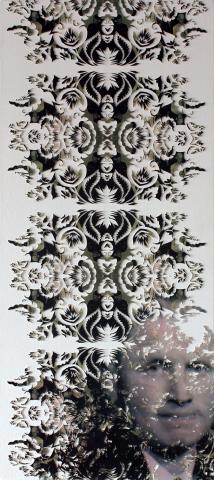 Tuesday, October 29, 2013
Assistant Professor of Art and Design Hanna Kozlowski-Slone has been chosen to participate in two art exhibits across the United States. Her papercuts, Carnation Carcass and The Long-Awaited, were accepted into two separate shows by juried selection.
Carnation Carcass was on display at the Smith Theatre Gallery at Oakland Community College in Farmington Hills, Mich. This World War II-inspired papercut was part of the exhibit "From Our Perspectives: A National Women's Art Exhibition," on display from Sept. 26-Oct. 25. This national women's juried art show is annually sponsored by the Womencenter at Oakland Community College and states that its purpose is to "share [the] unique viewpoint on the material, personal, global, political and cultural landscapes that surround us" as women. 
"I am continually fascinated by the unique ways in which female artists visually communicate, whether the content revolves around contemporary issues, personal experiences, or the roles of women throughout history. It has been a rewarding experience for me to exhibit alongside the other women artists selected for this show," said Kozlowski-Slone.
Kozlowski-Slone's other artwork, The Long-Awaited, will be part of "Structure," a national juried exhibition at Arc Gallery in San Francisco, Calif. This competitive, theme-based show was juried by James Bacchi, the owner of ArtHaus Gallery in San Francisco.
"Selecting works for the gallery exhibition was challenging, and involved several processes. At first, I was caught up in the pure aesthetics of each work. From there I began to approach each selection with an eye for concept, design, arrangement and the relationship between all the elements. ... My final selections seemed to depend on pure imagination and strength of execution," said Bacchi.
Out of 1,100 entries, Kozlowski-Slone was one of 69 artists chosen to participate. Due to the limited size of the gallery, her work will be exhibited through the Arc On-Line Gallery along with 43 other artists and included in the exhibition catalog.
"I am honored to showcase The Long-Awaited through this respected venue. This particular papercut adheres to the theme of the exhibition in that the decorative motifs not only structure the space in visual terms, but they also suggest the tendency for humans to romanticize war or forget the horrors that occurred. The motifs, which function as ornamental wallpaper from a distance, reveal a deeper meaning when viewed from a closer proximity," said Kozlowski-Slone.
"Structure" will run from Nov. 9-Dec. 7.
Sterling College is a Christ-centered, four-year college located in Sterling, Kan., with a mission to develop creative and thoughtful leaders who understand a maturing Christian faith. For more information, visit www.sterling.edu.
CUTLINE: Sterling College Assistant Professor of Art and Design Hanna Kozlowski-Slone has been chosen to participate in two national art exhibitions. The Long-Awaited will be a part of the Arc On-Line Gallery for the exhibit "Structure," running Nov. 9-Dec. 7 through the Arc Gallery in San Francisco, Calif.
The Long-Awaited, inkjet print, hand cut and mounted on canvas, 2010.