Kruse Honored at Warriors of Excellence Banquet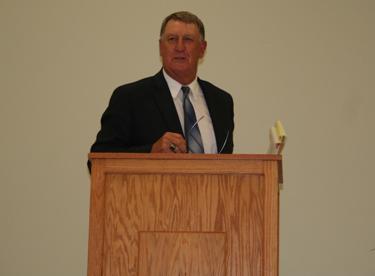 In an intimate gathering of family, friends, supporters, and students, Sterling College celebrated the career and achievements of athletic department patriarch and women's basketball head coach Lonnie Kruse. The third annual Warriors of Excellence Banquet served as the retirement gala for Coach Kruse and also honored the elite athletes at Sterling that demonstrate the three pillars of what it means to be a Warrior athlete: athletic excellence, academic excellence, and Christian character. Celebration Centre in Lyons, Kan. served as the location for event.
After an introduction by Athletic Director Gary Kempf, a prayer by Sterling College President Scott Rich, and dinner, Coach Kruse addressed the full house. In his speech, Kruse reminisced on his storied career highlighted by great success on the court and, more importantly, great relationships with family, players, coaches, supporters, and colleagues, all of which were represented in the packed Celebration Centre.
Three guest speakers praised Lonnie for his accomplishments and his impact on theirs and others lives and each speaker brought the room to tears with their recollections on how Coach Kruse has positively impacted the lives of others.
Southwestern College Women's Basketball Coach Dave Denly was the first guest speaker, sharing how Lonnie served as a mentor and friend. In his opening remarks, Coach Denly shared how coaching against Lonnie for the last time brought mixed emotions. There was some sadness in knowing that he would never coach against Lonnie again while there was also happiness that he would never have to lose to Lonnie again. Coach Denly transitioned into sharing how Lonnie was instrumental in helping Coach Denly as a friend to become a better man and also how Lonnie was instrumental in helping Coach Denly as a mentor to become a better coach. In closing, Coach Denly congratulated Lonnie on his impact in the lives of others and on a job well done.
Former Lady Warrior Melaney McDaniel Loar '97 was the second guest speaker. Melaney shared how Coach Kruse impacted her life and turned her into a strong Christian woman, a skill that Lonnie perfected just as much as winning basketball games. Using her own story, Melaney highlighted how Lonnie has taught not just basketball lessons to the women that have come through the Lady Warrior program, but permanent, life changing, life lessons. In her closing, Melaney shared her love for Coach Kruse and thanked him for how he has impacted her life.
The final guest speaker of the evening was current Lady Warrior Head Coach and former Lady Warrior point guard KC Bassett '07. With by far the most moving and emotional speech of the evening, Coach Bassett shared how Coach Kruse and his family accepted her into their fold. KC expressed her overwhelming gratitude and overwhelming love of Lonnie for how he has shaped her life since stepping on campus in the fall of 2003. At the end of her speech, KC and Lonnie came together in a long, heartfelt embrace between a coach and a player, a mentor and mentee, between friends, and between family.
During the banquet, the athletic department also gave multiple awards to student athletes. The first award of the night was the Warriors of Excellence award, which is given to the the member of each Warrior team that best exemplifies the three pillars of Warrior athlete: athletic excellence, academic excellence, and Christian character. The recipients of this year's Warrior of Excellence awards were:
Baseball: Ian Josh
Softball: Tess Murrow
Football: Matt Bennett
Men's Basketball: Darius Alexander
Golf – Tanner George
Women's Basketball: Lori Dauer
Men's Soccer: Jason Prichard
Cheer: Chelsea Stephenson
Women's Soccer: Kylie Dean
Women's Cross Country: Amber Burgess
Women's Track and Field: Ashley Stanford
Men's Cross Country/Track and Field: Joe Magana
Volleyball: Hayley Ray
The next award given was the Warrior Service award, which is given to a community member that shows a spirit of service throughout the year. Women's Soccer Head Coach Justin Morris presented the 2014 Warrior of Service award to Randy Henry for his 39 years of service on the chain gang at Warrior home football games, during which Henry has not missed a home game.
Coach Kruse then presented the Gleason Award in honor of former Sterling College Athletic Director Clair Gleason. The award is presented to the male and female sophomore athlete with the highest GPA and then to the next highest GPA out of the sophomore class. This year's recipients were Hayley Ray from the volleyball team, Kate Brickell from the women's basketball team, and Josh Williams from the cross country and track and field teams.
A.D. Kempf presented the final award of the night, the Outstanding Senior Athlete award. The award is given to the top female athlete and top male athlete from the senior class. Amber Burgess was awarded as the Female Outstanding Athlete. Burgess holds five school records, has qualified for nationals, and has had distinction at the KCAC level 10 times during her career. Darius Alexander and Eddie Adesodun split the Male Outstanding Athlete. Alexander and Adesodun combined as arguably the best guard tandem in the KCAC in men's basketball and arguably the best guard tandem in Sterling College men's basketball history. Together the duo combined for 2300 points, 728 rebounds, 441 assists, and 239 steals. Both were named to the All-KCAC Second Team and Alexander was named the KCAC Defensive Player of the Year.