Kruse wins 700 against Haskell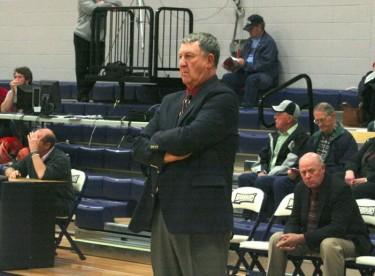 Tuesday, November 26, 2013
The Women's Basketball team played their final game of the Lady Warrior Classic and took on the Haskell Indian Nation University Indians. The Lady Warriors were able to pull out a victory thanks with key free throws late in the game and secure the 62-58 win and also the 700th victory for Head Coach Lonnie Kruse.
The Women's team got off to a hot start in the first half shooting 40% from the field and nailing down 11 of 15 free throws. Kelsey Strobel had a hot hand in the first half leading all scorers with 15 points and was six for six at the free throw line. Strobel also hit the only three of the game to keep it to Haskell's lead to one going into the half.
The second half was kept close from Haskell's three point shooting, scoring three three pointers but strobe continued her perfect night at the free throw line and finished with 10 points off of free throws. Kelsey Strobel would finish the night with 19 points and also have rebounds in the game. Overall, the key stat that helped out the Lady Warriors was their ability to rebound, Sterling out rebounded the Indians 39-37 but were only able to score eight points off of those rebounds.
This win was a major accomplishment in Sterling College's history, with this win it put Head Coach Lonnie Kruse in the upper echelon of women's basketball history. Kruse amassed 700 wins with the victory over Haskell. Lonnie Kruse is the all-time winningest coach in Sterling College history and is second most active winningest coach in NAIA Women's Basketball and is only eleven wins behind Garey Smith for most active wins.