Lalicker awarded history scholarship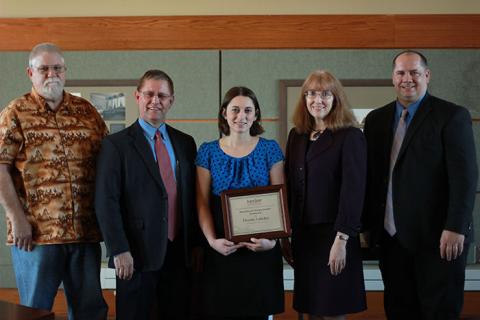 Tuesday, February 11, 2014
Sterling College Online senior Destiny Lalicker of Kinsley, Kan., was awarded the Doug Barnett History Student Scholarship by the Kansas Association of American Educators on Jan. 17. KANAAE is a non-union professional Kansas teachers' association focused on "advancing the teacher profession through development, teacher advocacy and protection, and promoting excellence in Kansas education." Lalicker was awarded the $500 scholarship for her essay about her passion for history and the importance of discussing ideas in a safe environment.
"The KANAAE chose an excellent teacher candidate to award the scholarship to. Destiny is passionate about history and has a wonderful report with her students. The professional educators that work with her have positive feedback and are excited about the educator she has developed into through the Sterling College Online history with education licensure program," said Terri Gaeddert, director of the Sterling Teacher Education Program.
"Integrity and compassion are traits that Sterling College has helped me define in myself. The STEP program at Sterling College has done a wonderful job at teaching me the basic teaching skills one needs, but also the life skills to be a better person," said Lalicker.
She is currently completing her clinical teaching experience in Spearville, Kan.
"Clinical teaching this semester is the last big jump - that crazy thing that usually starts after someone says 'Watch this!' I have loved every second of it. I feel like I am right where I should be," said Lalicker.
The Doug Barnett History Student Scholarship is named in honor of former history teacher Doug Barnett. He taught at Pioneer Trail Middle School in the Olathe School District where he was known for his sense of humor, faith in his students and faith in God.
For more information on Sterling College Online, visit www.sterling.edu/online.