Laudermilk awarded Sterling College's McCreery Teaching Award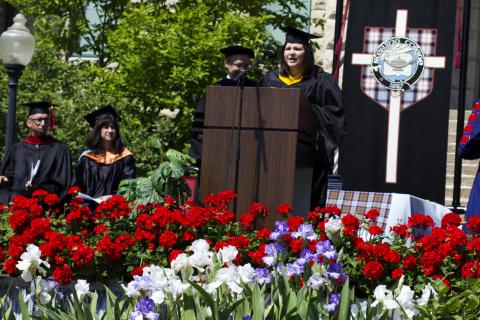 Erin Laudermilk, assistant professor of athletic training, was awarded the 2014 McCreery Teaching Award on Saturday, May 17, at Sterling College's commencement ceremony.
The McCreery Teaching Award recognizes and encourages excellence in teaching and is presented to a faculty member whose efforts have provided noteworthy and innovative instruction to Sterling College students during the academic year. The award was established in honor of Sterling College's fourth president, William M. McCreery, and has been awarded to one outstanding faculty member each year since 1977.
Among the comments made by students, Laudermilk was described as doing "a great job teaching material and [challenging] students in a positive way." They also said she "has extensive knowledge in the field of study and teaches all students to rely on their own thinking."
One faculty colleague who nominated Laudermilk said, "It's without a doubt that she is one of the most deserving faculty members for this prestigious award. As a professor she is as tough and as fair as it comes. Her students would agree that she makes them put out maximum effort and has high, but realistic, expectations, and what they're learning is relevant."
"This past fall, the faculty committee recommended that [Laudermilk] be promoted to associate professor, noting that she is a dedicated educator with high academic standards and positive student evaluations. Her willingness to serve the campus community, as well as the athletic training students, is very evident. [She] has done all of this while being a student herself and working toward her doctorate," said Dr. Gregory Kerr, vice president for academic affairs.
Laudermilk has been an assistant professor at Sterling College since 2007. She has been involved in teaching classes in both the exercise science and athletic training majors. She also serves as co-chair for the Department of Exercise Science and is clinical education coordinator for the Athletic Training Program. She holds an M.S. in Health and Human Performance from the University of Tennessee at Chattanooga and a B.S. in Biology from St. Joseph's College. She is currently working on her Ph.D. in Education from Northcentral University.