Long-time professor, Dr. Curtis Beechan, set to retire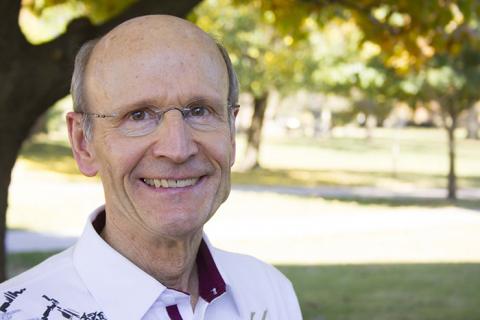 Dr. Curtis Beechan, professor of chemistry at Sterling College, announced his retirement at the end of the 2013-14 academic year. This May will mark the end of his 27th year of teaching at the College.
"It has been a privilege to have Dr. Beechan in our Department of Natural Sciences and Mathematics. The knowledge he's passed on to students from the hands-on experience he's had as an organic chemist and his passion for teaching chemistry from a Christian perspective added a wonderful integration of faith to our chemistry classes. He has inspired our students, and we will miss him," said Dr. Gregory Kerr, vice president for academic affairs.
In 1996, Beechan won the McCreery Teaching Award for excellence in teaching. This award is annually presented to a professor whose efforts have provided noteworthy and innovate instruction to Sterling College students during the academic year. Dr. Jonathan Conard, assistant professor of biology, has watched Beechan interact with students over the past six years.
"I've really been privileged to be able to work with Dr. Beechan. He's an extremely intelligent professor with a strong faith. I've been really impressed by his high academic standards that have helped many students to successfully prepare for graduate and medical school programs. I'll miss Dr. Beechan's sense of humor and watching some of his cool chemistry demonstrations," said Dr. Jonathan Conard, assistant professor of biology.
Beechan served on several committees during his time at Sterling College, including the Academic Policy Committee and the Faculty Welfare Committee.
Beechan received his B.S. in Chemistry from the University of California, Riverside in 1970, and he received his Ph.D. in Organic Chemistry from Stanford University in 1978. After graduating, Beechan worked as a Postdoctoral Fellow at the University of California in San Diego and Riverside. Then he worked for Rachelle Laboratories, Inc. as a supervisor and organic chemist. From 1981-1982, he worked at Ultrasystems, Inc. as an organic chemist. Beechan then became a Postdoctoral Fellow at the University of California in San Diego, Calif., from 1982-1984. He moved on to become an assistant professor at Mount St. Mary's College in Los Angeles, Calif., from 1984-1986. He also taught as an adjunct professor at Christian Heritage College and Grossmont College, both in El Cajon, Calif., before coming to teach at Sterling in 1986.