Lots of new faces at Sterling College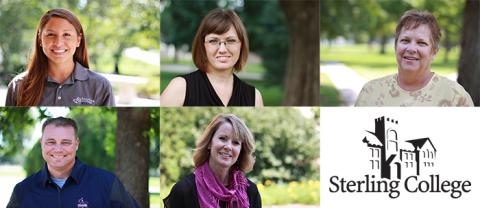 Sterling College begins the new school year with five more new employees; Adriana Gonzalez, Julie Jaderston, Tina McFerrin, Josh Musselman and Pattie Nix have begun working at Sterling College this month in various capacities.
Adriana Gonzalez '13, a familiar face on the Sterling College volleyball court, joined the SC volleyball coaching staff this year. As a student she set a school record of 4,264 career assists, 350 more assists than the previous record. She was also named Kansas Collegiate Athletic Conference Player or Setter of the Week at least five times during her senior year.
Gonzalez graduated with a B.S. in Business Administration: Entrepreneurship from Sterling College.
Jaderston was hired as assistant to the chaplain where she will help with chapel and the missions program. Additional responsibilities have been added to the chaplaincy program, and Jaderston will help with the organizational tasks of the office. She will track student attendance for chapel, record mission trip fundraising and plan mission-related chapels.
Jaderston has an extensive background in Christian leadership and service. She is currently the executive director of Northern Pines, a Christian family camp held in Wisconsin every summer. Recently she and her husband, Dean, served as youth pastors for CrossPoint Sterling, and she has spoken at several women's retreats, church banquets and women's Bible studies. All three of her sons have attended Sterling College.
Tina McFerrin joined the Office of Financial Aid as a financial aid coordinator. She is in charge of gathering information for student financial aid packages and tracking the processing stages for students' Free Application for Federal Student Aid forms.
Prior to working at Sterling College, McFerrin worked for the Department of Veteran Administration as a medical support assistant. She has also worked as an administrative specialist for the Kansas Department of Wildlife, Parks and Tourism.
Nix works part time in the library while she finishes her Master's of Library Science from Texas Woman's University. She will focus on the photography archive project, cataloging and organizing photos from the College's 126-year history. She will also work on upgrading the quality of the collection available to the students.
Nix has a B.S. in Early Childhood Education from Mercer University.
Musselman is the new head softball coach. He served as the lead assistant coach at Utah Valley University, an NCAA Division I institution, for the past year. At Utah Valley, Musselman worked with offensive production and was the top recruiter for the program. Seven of the athletes that Musselman coached won All-Pacific Coast Softball Conference honors while the team set the school record for wins at the Division I level and the school record for highest RPI.
Musselman has also coached at Edison High School in Huntington Beach, Calif., where his team was ranked No. 8 in the ESPN Powerade Fab 50, a national poll, and No. 1 in Orange County. Other coaching experience includes Pasadena City College, Loyola Marymount University, Sonoma State University, California State University of San Bernardino and California Baptist University. Internationally, he has coached for USA Athletes International, representing the U.S. as a head coach in 2006, 2007 and 2009.
Sterling College is a Christ-centered, four-year college located in Sterling, Kan., with a mission to develop creative and thoughtful leaders who understand a maturing Christian faith. For more information, visit www.sterling.edu.
Cutline: Pictured left to right: Adriana Gonzalez, Pattie Nix, Tina McFerrin, Josh Musselman and Julie Jaderston.