Ludwick, Smart hired by College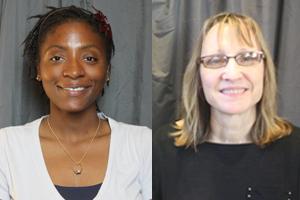 Carol Ludwick and Adedrea Smart '12 were recently hired to fill two positions on campus. 
Ludwick will serve as the academic support specialist beginning in August, and Smart began her role as student accounts coordinator in June.
Ludwick served in public education for the past 18 years. She worked for USD 405 Lyons School District as a special education teacher for grades K-8. Ludwick has a bachelor's degree in elementary education from Sterling College and a master's degree from Kansas State University.
"Adding Carol to our staff will greatly benefit our students," said Dr. Gregory Kerr, vice president of academic affairs. "Her educational background allows us to offer CLEP testing through academic support, and her expertise in education will be a great resource for our students."
Students returning this fall will also find a new, but familiar face in the business office. Smart graduated from Sterling College in May with a degree in psychology. As a student, she was president of both the Behavioral Science Club and the Sterling Diversity Club. She is married to Cecil Smart '10 who also works for Sterling College as an assistant basketball coach, assistant resident director of Kilbourn Hall, and part-time admissions recruiter.
"Adedrea has been a great addition to the business office," said Michelle Hall, business office controller. "Her friendly personality works well with students and parents, and she is a strong supporter of Sterling College and its programs."
Former Student Accounts Coordinator Laquitta Pitts moved into the Office for Institutional Advancement where she will use her accounting background to work with gift receipting and as records coordinator.