Magee, Prichard Named 2012 Outstanding Students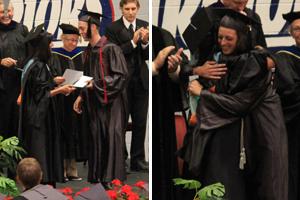 Caitlin Magee of San Leandro, Calif., and Cuyler Prichard of Aurora, Colo., were named Outstanding Students and received the 2012 Fran Jabara Leadership Award.
The Outstanding Student and Fran Jabara Leadership Award is given to two seniors who exemplify outstanding academic achievement, leadership skills and involvement, and portray an enthusiastically Christian faith. They must also have a cumulative GPA of 3.4 or higher and are voted upon by faculty and staff.
Magee was named Outstanding Female Student for her work ethic, humble spirit and embodiment of servant leadership. Magee served as a resident assistant this year under Naiya Hernandez, the resident director of Evans Hall. Hernandez said, "She is a prime example of a student leader and will make Sterling College proud as an alumna. Whether it is attending events, being a part of the volleyball team, or spending time in her dorm, she always has a positive attitude and a contagious joy. She works hard to apply herself to her academics and strives to meet the challenges she is presented with."
During her time at Sterling College, Magee was a two-time Daktronics-NAIA Scholar-Athlete and KCAC All-Conference Honorable Mention this past fall. She is the daughter of Randy and Louise Magee.
Prichard, named Outstanding Male Student, was described by Dr. T.H. Kwa, professor of business, as intelligent, diligent, honest, prudent, fun-loving and humble.
Eric Saiz, resident director of Douglas Men's and Women's Halls, said, "It has been a pleasure to work with Cuyler over the last two years. As a freshman he showed great maturity and leadership potential, so as a sophomore, he was placed as an RA in the upperclassmen dorms. During his time there, he earned the respect of his peers, his teammates, and his RD. If I were to choose one thing about him that I respect the most, it would be the way in which he handled his relationships, specifically his relationship with his soon-to-be wife. He has set an example of what a healthy, Christ-centered relationship should look like."
Prichard is the son of Wade and Melina Prichard.