Mark Clark celebrates 39 years on stage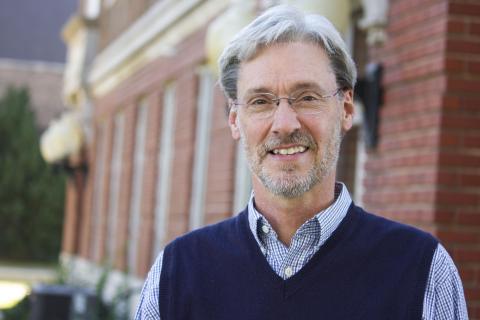 Sterling, Kan. – Mark Clark, Sterling College assistant professor of music, is celebrating his 39th year of performing in local theatres across central Kansas. Beginning his professional career at Music Theatre of Wichita in 1975, Clark has participated in multiple shows at MTW, the Crown Uptown, Stage One, Cabaret Old Town Theatre, Wichita Children's Theatre, enCompass Center for Creative Arts and other local theatres.
"I believe doing shows continues to hone your skills as a performer, which makes you more effective when you are talking about performance with your students," said Clark. "The Sterling College Chorale and Highland Singers have a lot of theatre majors and minors. I feel I can connect with them on a different level – beyond the music."
Clark has played various roles throughout the years, some of his favorites including Johnny Brown in "The Unsinkable Molly Brown," Adam Pontipee in "Seven Brides for Seven Brothers," Sky Masterson in "Guys and Dolls," Captain Georg von Trapp in "The Sound of Music," Sid Sorokin in "The Pajama Game," Reverend Shaw Moore in "Footloose" and Lieutenant Cable in "South Pacific."
This summer Clark performed in "Little Women" at the Crown Uptown of Wichita, Kan. He will assume the role of Sir Edward Ramsay in "The King and I" at Music Theatre of Wichita July 10-14. To finish out the summer, on Aug. 6-7, Clark will join four actor friends in "Ex-Leading Men Sing Broadway!" at the Crown Uptown. This show will feature a revue of Broadway songs for leading men.
Clark also enjoys connecting his students with the local theatre. This summer, senior Ryan Ehresman of Wichita, Kan., is performing in "Hairspray" at the Crown Uptown.
"My prayer," said Clark, "is for these students to take their love and passion for music and theatre out into the culture-changing areas of the world – film, theatre and music – and be a light in the darkness."
-30-