Matt James and Brandon Ponchak join Sterling College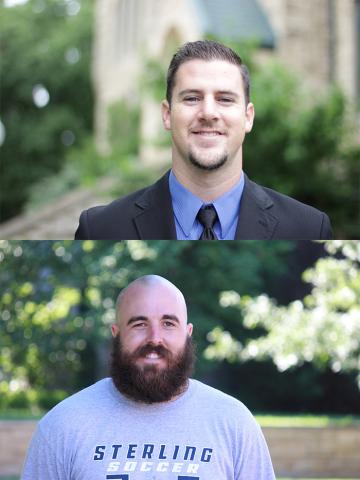 Sterling College has hired Matt James '13 and Brandon Ponchak to fill the roles of admissions counselor and men's soccer coach respectively.
James will work with prospective students interested in athletic training, exercise science, health science, sports management and athletics.
"Matt has the background we need to fill the role of admissions counselor for the Department of Exercise Science and athletics. He participated in football during his time at Sterling and graduated with a degree in sports management. His student-athlete experience and familiarity with the department will be a great benefit to the students he will be working with," said Dennis Dutton, director of admissions.
"Matt is also a native of California which will be tremendously helpful in recruiting. California was our second highest state for recruiting the past two years," said Dutton.
As admissions counselor for athletics, James will be working with the new men's soccer coach, Ponchak. Prior to SC, Ponchak coached the Zanesville Athletic Football Club in Zanesville, Ohio. He has also served as a graduate assistant with the Bluffton University men's soccer program in Bluffton, Ohio and the Dakota Wesleyan University men's and women's soccer programs.
"We are excited to welcome Brandon into the Sterling family. Coach Ponchak brings a tremendous knowledge of the game to our program and will rely on his background in theology to provide leadership and guidance to the young men in our program," said Gary Kempf, athletic director.
Ponchak earned his B.A. in Bible and Theology: Pre-Seminary from Asbury University and holds an M.A. in Educational Policy and Administration from Dakota Wesleyan University and an M.A. in Business Administration from Bluffton University.
Sterling College is a Christ-centered, four-year college located in Sterling, Kan., with a mission to develop creative and thoughtful leaders who understand a maturing Christian faith. For more information, visit www.sterling.edu.
Cutline: Pictured top to bottom: Matt James, Brandon Ponchak