Miller awarded 2017 Sterling College Young Alumni Award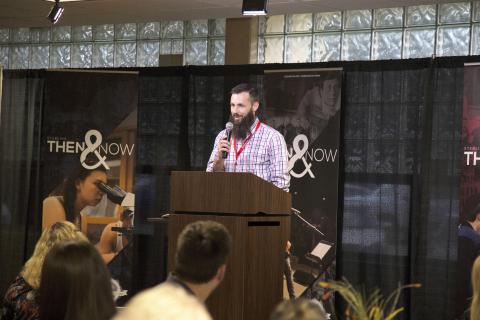 Wednesday, October 11, 2017
Dr. Drew Miller '02 was awarded the Sterling College Young Alumni Award on Oct. 6, 2017, for his for demonstrated excellence in his career, service to others and loyalty to Sterling College. Presented at the Alumni Banquet and Award Ceremony, Miller was celebrated along with Distinguished Service Award winner John Wilkey '67 and Alumni Award winner Gary White '72.
Miller, a family medicine doctor, graduated from Sterling College in 2002 and from the University of Kansas School of Medicine in 2007. Miller was announced as a finalist for the 2017 Kansas Family Physician of the Year by the Kansas Academy of Family Physicians. He currently practices in Lakin, Kansas.
"I have come to realize that being a family doctor carries more responsibility and more reward that I ever could have realized. As a family doctor, I am a family's obstetrician, pediatrician, internist, geriatrician. It means that I get to practice 'hands on' medicine, from delivering babies to performing endoscopy to performing minor surgeries and procedures. Being a family medicine doctor in a small community means that these families are my friends, my children's teachers, my pastor, and my co-workers. It also means being ready for medical questions almost anywhere, from the clinic to the post office to the grocery store to the church," said Miller.
The Young Alumni Award is presented to alumni or former students of 15 years ago or less who has demonstrated excellence in career, service to others, and loyalty to Sterling College.