Moncada, Yelton named 2019 Outstanding Graduates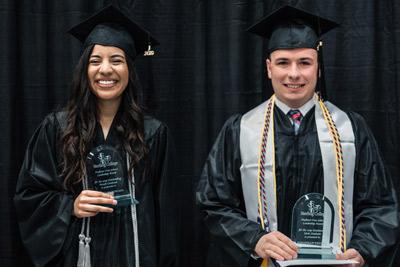 With years of hard work and service behind them, Sterling College seniors Estephany Moncada of Patterson, California, and Jonathan Yelton of Osawatomie, Kansas, were named the 2019 Outstanding Female and Male Graduates in conjunction with the Fran Jabara Leadership Award.
The awards are given to two students who exemplify outstanding academic achievement, leadership skills and involvement, and who portray an enthusiastically Christian faith. They must have a cumulative GPA of 3.4 or higher and are voted upon by faculty and staff.
Moncada earned her Bachelor of Science in Criminal Justice: Pre-Law, graduating with honors of magna cum laude and Kelsey Scholar. During her time at Sterling College, she was actively engaged in the campus community, served as a student ambassador, was vice president for the Student Government Association and co-founded multiple clubs on campus.
"Estephany is a rare light in a dark world," said Emilie Heinl, resident director. "She is always the first to say hello, share a piece of encouragement, and direct you to look towards Jesus. She loves people fiercely and graciously, just as Christ loves us. She is a prime example of servant leadership and the values of Sterling College."
Yelton completed his Bachelor of Science in Criminal Justice: Pre-Law, with honors of summa cum laude. He played on the football team, served on the Student Government Association and competed on the cheer team. Additionally he serves in the Kansas Army National Guard.
"I have always been impressed with his courage and commitment," said Dr. Mark Tremaine, assistant professor of criminal justice. "He treasures his faith, knows what he believes, and has the courage to stand up for his faith even in the face of resistance. During his junior year, he found out that his Kansas National Guard unit was to be deployed to Afghanistan. He likely could have avoided the deployment and finished his senior year, but instead, he chose to honor his commitment and he took a year away from his education to serve his country.  I am honored to have had him as a student and am pleased to call him a friend."
The Professor Fran Jabara Leadership Award was established in 2002 by Professor Fran Jabara, former Dean of the Wichita State University College of Business Administration, and recognizes graduating seniors from four-year, private Kansas colleges who display exemplary leadership skills.
Sterling College is a Christ-centered, four-year college located in Sterling, Kansas, with a mission to develop creative and thoughtful leaders who understand a maturing Christian faith. For more information, visit www.sterling.edu