Musical Theatre Students Travel To NYC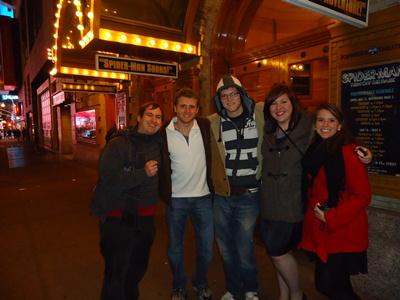 Learning about musical theatre from a classroom is fun, but experiencing it is even better. Sterling College students were able to do just that during their musical theatre interterm course, which included a week in New York City.
"Seeing the talent it takes to be a part of professional theatre in New York City and the preparation that goes into a show gives the student an experience they will never forget," said Theatre and Communications Department Chair Gordon Kling.
Before traveling to NYC, students spent a week on campus studying the history of the American Musical Theatre, various influential shows and musicals, and the components of a musical. They also learned how to properly critique the shows they were about to experience. Once in New York, the group attended Porgy and Bess, Anything Goes, Godspell, and Memphis. In addition, students could take in up to three shows of their choice. The majority attended Spiderman:Turn Off the Dark, Rent, Phantom of the Opera, The Fantasticks, or Chicago.
During the day, students received a look backstage at the Metropolitan Opera, Lincoln Center, where they saw the costuming department, rehearsal rooms, and preparations for the evening show. Another backstage visit occurred at Radio City Music hall where they viewed the restored art deco designs and met a Rockette.
When students were not studying the theatre, they visited Ellis Island, the 9/11 Memorial, the Empire State Building, Central Park, the Metropolitan Museum of Art, and various other locations. Upon returning to campus, students finished the course with written critiques of the musicals, reports on major contributors to the history of musical theatre and turning in their reflection journals kept during the experience.
"This was my second time touring New York with the Sterling College Theatre Department," said Junior Michael Redondo of Mira Loma, Calif. "My previous experience allowed me to prepare for a much more fruitful experience. The education from seeing eight professional Broadway performances, touring professional performing centers, and embracing such a unique culture as that of New York City made this a priceless experience that I will forever cherish as a theatre student and as an American."