National Parks Centennial posters exhibited at Sterling College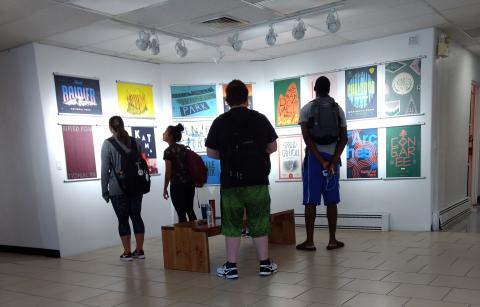 Tuesday, September 5, 2017
The National Park System turned 100 in the summer of 2016, sparking a series of celebrations across the United States. Not to be left out, a group of designers organized by Type Hike created 59 typographical posters for the 59 national parks that will be on display at Sterling College beginning Aug. 29, 2017. The gallery of the Art and Media Center will house all of the posters through Sept. 22 for the public to view from 8 a.m.-5 p.m. on weekdays. Groups can request to view the show after 5 p.m. weekdays or on weekends by sending an email to art@sterling.edu.
"This exhibit of typography and graphic design really captures the spirit of each location in the National Park System. It's a beautiful collection that  has been a celebrated exhibit throughout the United States for the past year. I'm really excited for our students to be inspired by the diversity presented and the excellence in craft that will be on display. I hope the public comes out to see this landmark exhibit as well," said Daniel Swartz, assistant professor of art and design.
In June 2016, James Louis Walker and David Rygiol started Type Hike; a collaborative nonprofit design project that celebrates and supports the outdoors through typography. The Type Hike: National Park Service Centennial Poster Exhibit features designers included Meena Khalili, David Carson, Jessica Hische, Jay Fletcher, Charles&Thorn, Brian Steely, Joshua Noom, and Lauren Dickens.
Shortly after it began, Type Hike began exhibiting the collection as a poster show in retail spaces such as REI, galleries, and universities, including at the Type Directors Club in New York and the Chicago Design Museum. As of February 2017, it is part of the permanent collection of the Library of Congress, and has expanded to include 2 additional series.
Series 2: Shores, which launched May 2017, focused on National Shorelines and Recreation Areas and includes 16 total submissions from designers such as Aaron Draplin, John Malinoski, and Anderson Newton Design.
Type Hike's third series, Alphabets, will Launch Sept. 1, 2017, with submissions responding to endangered animals of North America. Proceeds from this series will benefit the charitable organization, Defenders of Wildlife.
According to Type Hike, "The founders, David and James, strongly believe that all designers should be compelled to use their unique ability to make the world a more beautiful place, and celebrating our country's National Parks presented that opportunity. Type Hike is, admittedly, a showcase for beautiful type. Looking forward with optimism to another great century for the NPS is one of the main goals of the project."