New Athletic Website Launched at Sterling College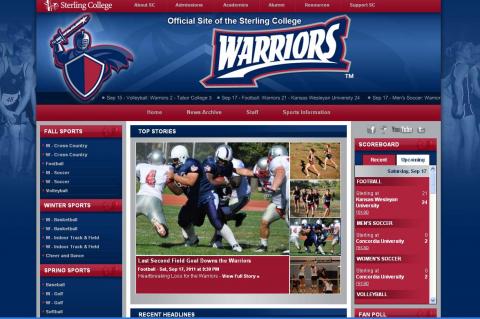 Tuesday, September 20, 2011
Sterling College announces the launching of a new athletic department website through SIDHelp.  The URL for the new website is www.scwarriors.com. This new website is designed specifically to function in a way to be more interactive for all Warrior sports fans.
 "We are excited for all of the new opportunities this new website brings to our department," said Hans Nickel, Sterling College sports information director. "An SIDHelp website gives our department the tools to reach our fans in a way that will allow for more two-way communication and really engage the fan base."
The new website features as active scoreboard, rotating news headlines, fan polls, social media integration, and is designed to be easily navigated. The new athletic site comes a few months after the newly launched institutional site of www.sterling.edu.
Getting the new website ready to launch took a team effort between the athletic and marketing departments.  The result of that cooperation is a high quality product that will effectively serve the needs of the Sterling College Athletic Department, the media that cover SC Athletics, and most importantly, the fans of Sterling College.