New faces on Sterling College campus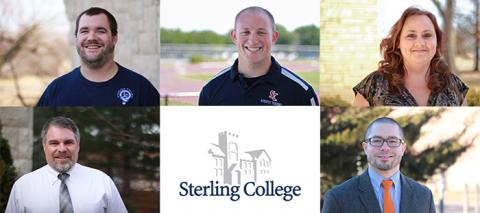 Wednesday, January 29, 2014
Sterling College is announcing the hires of five full-time employees to the staff and faculty. Jonathan Faulkner, Allen Jeter and Meredith O'Donnell joined the staff of Sterling College earlier this academic year, and Dr. Roy Millhouse and Dr. Jacob Shatzer begin teaching as faculty for the spring semester beginning this week.
Faulkner started working with the Service Department earlier this year as maintenance staff. His responsibilities include trash services and supply delivery. Faulkner spends his time outside of work helping at First Baptist Church in Lyons where he is a part of the music ministry and occasionally preaches. He sings and plays piano, guitar, drums and clarinet. Faulkner has performed in local venues as well, including a performance last year at Broadway Market.
Jeter is an assistant athletic trainer with the primary responsibilities of baseball and men's and women's soccer. During his summers, he serves as a first aider and camp administrator for Varsity Brands Incorporated. Before coming to Sterling College, Jeter was an athletic trainer for Hendrix College in Conway, Ark. He earned his B.S. in Athletic Training from The State University of New York Cortland. He also holds an M.A. in Exercise Science from Southeastern Louisiana University.
O'Donnell joined the Office of Institutional Advancement as the gift receipting and records coordinator. She is in charge of maintaining the database of donors and creating letters, appeals and event invitations. O'Donnell came to Sterling College from CCH – Tax and Accounting, where she had worked for five years as supervisor of IT in the area of quality assurance for ProSystem fx Tax software and 12 years as quality assurance analyst for the ProSystem fx suite.
Millhouse, assistant professor of biblical studies, comes to Sterling College from Texas where he taught and tutored at Baylor University, University of Mary Hardin-Baylor and Midway Independent School District. Millhouse also has experience behind the pulpit, having served as an associate pastor in Arkansas and an interim pastor in Texas. Millhouse earned his Ph.D. in Biblical Studies from Baylor University. He earned his M.A. in New Testament from Trinity Evangelical Divinity School and his B.A. in Biblical Languages from Calvary Bible College.
Shatzer is an assistant professor of biblical and theological studies. He actively serves as a consultant and writer for BibleMesh.com, working on articles for biblical studies and Greek vocabulary projects. Shatzer was ordained in 2007 and has experience as a youth pastor. He earned his Ph.D. from Marquette University and his M.Div. from Southern Baptist Theological Seminary. He also holds a B.A. in Biblical Studies – Languages from Union University.