New faculty join Sterling College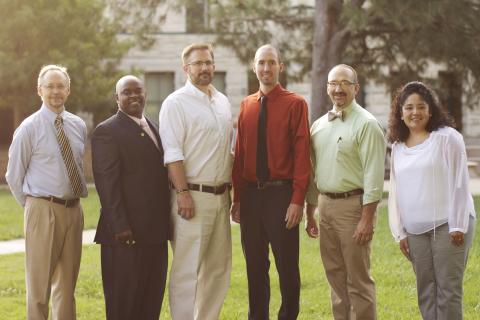 Wednesday, August 6, 2014
The fall semester brings five new faculty to the campus of Sterling College - Dr. Farai Kwaramba, Jeremy Labosier, Dr. Brian Mills, Mark Tremaine and Rachel Wannamaker.
"Our new faculty members bring energy and excitement to the beginning of the academic year. They are ready to challenge their students, and I look forward to seeing the results of students benefiting from their instruction," said Dr. Gregory P. Kerr, vice president for academic affairs.
Dr. Farai Kwaramba joined the Department of Natural Sciences and Mathematics as an assistant professor of chemistry. He has a strong background in a wide range of chemistry fields and has experience in teaching, evaluating and supervising undergraduate classes and laboratory courses. Kwaramba recently completed his Ph.D. in Organic/Organometallic Chemistry from Oklahoma State University. He graduated magna cum laude with a B.S. in Chemistry from Southwestern College in Winfield.
Jeremy Labosier, director of Mabee Library, began his employment in June. Previously, he served as the library director at Bethel Seminary of the East (Bethel University). Labosier earned the Master of Library and Information Science from Wayne State University, the M.Div. from Bethel Seminary of the East and a bachelor's degree in historical theology from Moody Bible Institute.
Dr. Brian Mills joined the faculty as an associate professor of psychology. He is an experienced professor and previously worked as the coordinator of education and congregational care at Mulvane United Methodist Church. Mills has a Ph.D. in Counselor Education and Supervision is from Regent University. He has two M.A. degrees from Southwestern Baptist Theological Seminary – one in marriage and family therapy and the other in religious education. He also earned a B.A. in Psychology and an M.A. in Family Ministry from Friends University.
Mark Tremaine, a former dean of students at SC, has returned and is now serving as an assistant professor of criminal justice. His former roles include attorney for the city of Lyons, contract defense attorney for Rice County and adjunct instructor for SC and Central Christian College. Tremaine earned his J.D. from University of Kansas School of Law, M.Ed. in Postsecondary Educational Administration from University of Nebraska-Lincoln, and B.S. in Psychology from Oklahoma Christian University. He is an elder at Sterling Church of Christ.
Rachel Wannamaker joined the Department of Education at Sterling College as an instructor of education. She has been serving as an adjunct instructor for the College and is an experienced elementary teacher. Wannamaker earned the M.A. in Teaching from Friends University and a B.S. in Elementary Education from Newman University.
Sterling College's fall semester starts on Wednesday, Aug. 20.