New Policy Attracts Transfer Students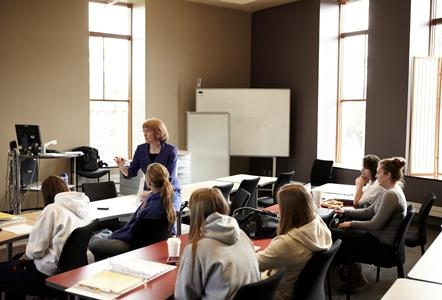 Wednesday, February 22, 2012
A new policy has made it easier for transfer students to join Sterling College. The Guaranteed Admission Advantage (GAA) ensures that many Kansas community college students will receive special benefits.
The GAA provides that students with a grade point average of at least 2.5 and an Associate of Arts or an Associate of Science degree from a regionally-accredited Kansas community college will have most of their general education requirements met. The only general education courses that will remain are those that make Sterling College's education distinctive by enhancing the student's spiritual understanding.
In addition to meeting most general education requirements, students will enter with junior status and be eligible to transfer many additional hours to Sterling College. This GAA policy applies to students in both the traditional on-campus programs and SC's growing online offerings, including elementary education and history, both with teacher licensure.
"We hope that this policy will help a growing group of students experience a smooth transition to Sterling College," said Dr. Gregory Kerr, vice president of academic affairs.
For more information on the GAA or Sterling College, contact an admissions counselor at (620) 278-2173.