New professors join Sterling College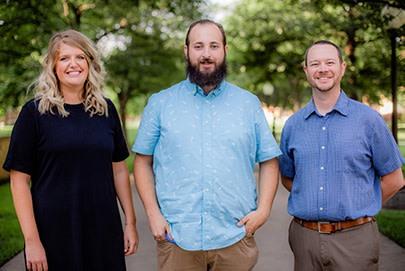 Wednesday, August 21, 2019
Sterling College welcomed three new faculty members to campus for the fall semester. Classes begin on Wednesday, August 21. 
"Once again, the Lord has blessed Sterling College with three new faculty members that are skilled, creative, servant leaders. Their individual education and backgrounds, paired with a focus on serving our students, will propel the classroom experiences for those we are here to serve," said Dr. Ken Brown, vice president for academic affairs. 
Elizabeth (Libby) Reimer joins Sterling College as instructor of art and design. Reimer earned her B.F.A. in Graphic Design from Fort Hays State University. She will graduate in December 2020 from Fort Hays with her M.F.A. in Graphic Design. Reimer taught computer assisted graphic design and survey of art history while a graduate assistant at Fort Hays. 
Adam Hill, assistant professor of history, comes to Sterling College as he is completing his Ph.D. in Modern European History from the University of Connecticut, where his dissertation focused on "The Virtues of Dead Kings: Egyptology and Empire in Twentieth-Century Britain." Hill received his M.A. in History from the University of Southern Illinois in 2008, and his B.A. in History from the University of Missouri. Hill has taught a wide array of courses at both the secondary and post-secondary levels, has been published several times and has had over a dozen papers selected conference papers and invited lectures within his vitae. His awards and service to the profession are well documented, including teacher licensure in Massachusetts, and certification with the Association of Christian Schools International.
Micah Oelze '16, returns to his alma mater as instructor of communications and digital media. Oelze majored in Communications, with a concentration in multimedia, during his time as a student at Sterling. He also worked with the Office of Admissions, Ministry Teams, and the Communications department on the creation, development, and delivery of media productions. Since that time, he has served as the public relations and social media specialist at Barton Community College, followed by a position as the video communication specialist at Newman University. Oelze's list of published works include photography, print and online press releases and video. He will begin his graduate work this spring.
Sterling College is a Christ-centered, four-year college located in Sterling, Kansas, with a mission to develop creative and thoughtful leaders who understand a maturing Christian faith. For more information, visit www.sterling.edu.