New Soccer Scoreboard Boost to Athletics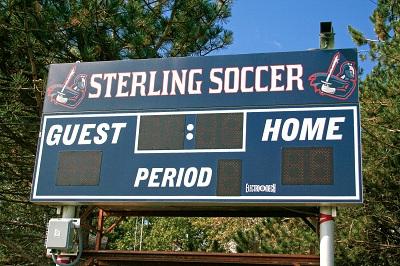 Wednesday, November 16, 2011
As the soccer season came to a close, Sterling College Soccer fans noticed a new scoreboard gracing the field, thanks to a gift from some avid supporters of Sterling College and its athletic program. The scoreboard is one of the many updates you will see at Sterling College this year.
"We are very thankful for this gift to our program. It was a much needed improvement to our field and we are excited about the new look it gives our field," said Justin Morris, head coach for the women's soccer team. 
As a result of donations from alumni and friends of Sterling College, there have been several improvements to campus this year. So far this year, there is a new scoreboard in the gymnasium of the Gleason Physical Education Center, donated by Jacam and First Bank. On the west side of Thompson Hall, you will find a new Heritage Garden and Outdoor Learning Lab, and new science equipment inside Thompson. Donations have also been given for multiple student scholarships.
"We are grateful for the generosity of Sterling College friends and alumni, as represented in these projects. Together, they make a big difference to students, parents, and other visitors to campus," President Paul J. Maurer said. 
Visit the new Sterling College Athletics website, www.scwarriors.com, for schedules, rosters, and more information from the soccer season and the other athletic teams.