New Staff Members Join the SC Team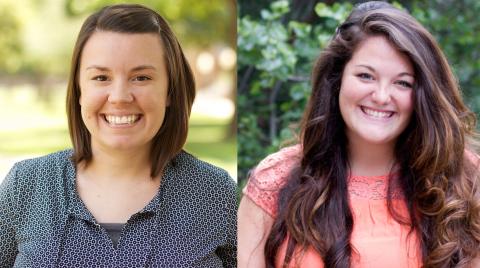 The Office of Admissions and Sterling College Online welcomed new staff members this month. Kaylee Looney, admissions counselor for SCO, and Mackenzie McGuire '14, admissions communications coordinator, began their duties last week.
Looney will be in charge of recruiting students for SCO. She has a B.S. in Sociology and Public Relations from the University of Central Arkansas.  
"Kaylee is a great addition to the SCO team. She brings many skills to our department that she acquired as the ministry assistant to the church planting and missions team for the Colorado Baptist General Convention. Her degree in public relations with an emphasis in communication will lend itself well to her job as an online admissions counselor," said Piper Harding, director of admissions for Sterling College Online.
Looney joins SCO after serving at the Colorado Baptist General Convention in Centennial, Colo., for over two years. Her job included record keeping, event planning, social media creation, online newsletters, and content creation and editing for the Rocky Mountain Baptist paper. Looney's husband, Garrett, is the coordinator of online student services for SCO.
McGuire's role as admissions communications coordinator involves working with student ambassadors and scheduling personal visits with prospective students. 
"We are excited to have Mackenzie join the admissions team. She's been a student ambassador the past couple of years, so not only does she bring experience in that regard, but she also brings excitement and enthusiasm to the team," said Dennis Dutton, director of admissions.
McGuire graduated with a B.A. in Art and Design: Graphic Design, Photography. As a student, she was an admissions ambassador for the College, a resident assistant in Evans Hall for one year and involved in the Sterling Art League. She also runs a freelance photography business with fellow alumna Kara Stineman '14 specializing in wedding photography and portraits for families, high school seniors and newborns. Originally from Wichita, Kan., she is the daughter of Dewayne and Holly McGuire.