New Trustee Leadership Named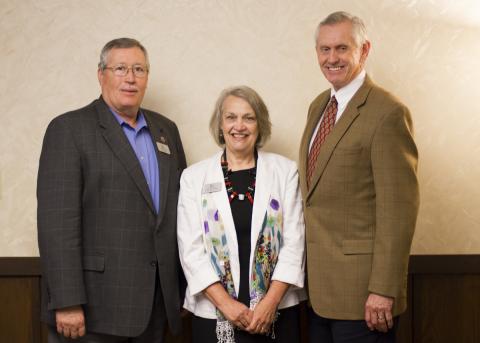 The Sterling College Board of Trustees elected Randy Henry '72 as chair of the Board, Glennys Doane '73 as vice chair and Joe Lang '66 as secretary during their May meeting. The new positions took effect during the last session of the May Board meeting.
Henry has served on the Board of Trustees since 1983. He has served as Board secretary and vice chair of the finance and investment committee.
"Randy will do a great job leading the Board in the next phase of Sterling College's growth and development. His history with the College and his knowledge of finance and law will be assets to the position. He also loves Rice and Reno counties, making him an excellent choice for deepening relationships in the area," said former Chair of the Board Heather McCreery '90.
Henry graduated from Sterling College with a B.A. in History and Political Science with a minor in English. He went to Washburn University School of Law where he earned his J.D. in 1974. His practice at Oswalt, Henry, Oswald, and Roberts includes real estate, oil and gas, trusts and probate, business organizations, bankruptcy, and general civil litigation.
Henry serves as a senior lecturer in business law for Sterling College. The Sterling community is familiar with Henry from his service as a Sunday school teacher at the First United Methodist Church and as the announcer for Sterling College and Sterling High School basketball.
Doane has served on the Board since 2007. She has served as vice chair of the advancement and enrollment committee and was part of the inauguration planning committee. Doane is from Downs, Kan., where she and her husband, Gary, manage family farm operations. Doane served 16 years on the local school board and is still involved in leadership with a regional technical college. She graduated from Sterling College in 1973 with a double major in home economics and art. She then attended Kansas State University, earning a master's degree in interior design in 1974. She also served as chair of the inauguration committee for President Rich. 
Since 2006, Lang has served on the SC Board of Trustees and has been vice chair of the academic affairs committee. He was the chief deputy city attorney for the City of Wichita from 1980-2010. From 1977-79, he was the research attorney for the Kansas Supreme Court. Lang graduated from Sterling College with a B.A. in History and Political Science and attended Washburn School of Law, earning his degree in 1977.