A Night at the Opera set for Sunday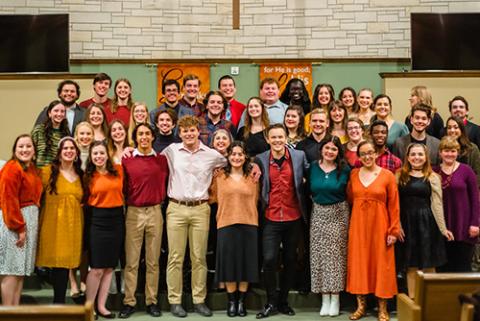 Sterling College music and theatre students are quite comfortable doing music theatre with shows like "Legally Blonde" and "Newsies."  For their next public performance, they are venturing into the world of opera, many for the first time. Their concert "A Night at the Opera" will be presented this Sunday, March 27 at 6 p.m. in Upper Wilson Hall on the college campus. The concert will include vocal solos and duets as well as group numbers from both Sterling College Concert Choir and the Highland Singers.
"Most of the students in our groups have just completed the run of "Legally Blonde" the musical before Spring Break, but we want our students and audiences to have rich, varied experiences which is why we are presenting this night of some popular opera works," said, Marisa Callan, director of vocal music at Sterling College.
Included in the hour-long concert will be songs from such operas as "Carmen" by Bizet; "La Traviata" by Verdi; and "Dido and Aeneas" by Purcell. "Summertime" from Gershwin's "Porgy and Bess" will also be included in the performance as will works by famed operetta composers Gilbert and Sullivan.
"While the performance style and technique of opera is similar to that of a traditional musical, there are differences, which is why I feel it's important to offer performance experiences like this for both our students and our audiences," Callan said.  
One of the soloists for "The Night at the Opera" is sophomore Keeley Coon from Eureka, Kan. She played the leading role of Catherine in "Newises" last fall and was featured in "Legally Blonde" as well. She said, "This is my first time singing anything from an opera. I've had to approach this song very differently than I usually approach my music. I'm much more comfortable with musical theatre than opera so it's been challenging to test what works and doesn't work vocally. I've had to step out of my comfort zone and sing much higher than I usually do but I'm very thankful for this opportunity because it is allowing me to grow and learn more as a musician." 
Senior Nilo Reynoso from Long Beach, Calif., is performing a duet for the concert.
"In the Mexican culture we have a style of music called mariachi and if I were to compare the voices of a mariachi member and a person who does opera, I'd say the voices would be very similar." His song is by Verdi and is in Italian. "First, I learn the words and the meaning. I've never done a song like this. I'm excited to perform it," said Reynoso.
"The Night at the Opera" performance will be held in Upper Wilson Hall on the college campus. There will be no admission charged for the performance which will also be live-streamed free of charge. To livestream the performance, go to www.sterling.edu/arts. 
Sterling College is a Christ-centered, four-year college located in Sterling, Kansas, with a mission to develop creative and thoughtful leaders who understand a maturing Christian faith. For more information, visit www.sterling.edu.