Nine Warriors Given All-KCAC Football Honors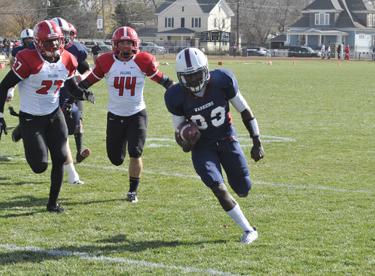 Thursday, November 15, 2012
Nine Warrior football players have been given All-KCAC Honors. Denton Hudspeth received both Second Team All-KCAC and Honorable Mention All-KCAC honors. Brian Noller and Kerby Rice were named to the All-KCAC Second Team. Jesse Kendig, Aric Hook, Kyle Finder, Mat Schmidt, Jordan Coleman, and James Morley were all named Honorable Mention All-KCAC.
Hudspeth led Sterling in rushing, garnering 911 rushing yards on the season for an average of 91.1 yards per game and ran for three scores. In the air, Hudspeth completed 18 of 47 passes for 256 yards and a touchdown.
Noller led Sterling in sacks with four on the season and had 67 tackles. A versatile player, Noller also picked off two passes on the season and had 12 tackles for a loss.
Rice led Sterling with 90 tackles on the season, ten for a loss. In his senior campaign, Rice collected 1.5 sacks.
Kendig had 32 tackles on the season as a defensive lineman.
Hook collected 52 tackles and two interceptions on the season.
Finder was the anchor on Sterling's offensive line.
Schmidt caught ten passes on the season for 160 yards and touchdown.
Coleman was Sterling's top wide receiver with 39 receptions for 617 yards and four touchdowns.
Morley had 45 tackles on the season, two for a loss, and one sack.
The Warriors finished the 2012 season with a record of 3-7, 3-6 in the KCAC.