Nix presented with McCreery Teaching Award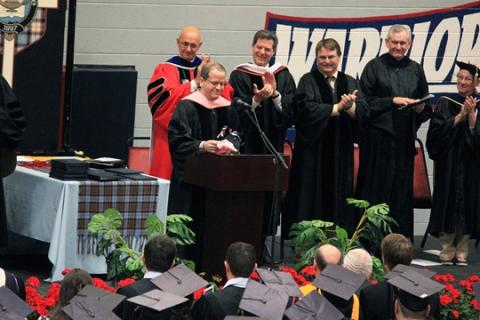 Dr. Brad Nix, associate professor of music, was awarded the 2011-2012 McCreery Teaching Award at Sterling College's 120th Commencement Ceremony on Saturday, May 12.
 
The McCreery Teaching Award recognizes and encourages excellence in teaching and is presented to a faculty member whose efforts have provided noteworthy and innovative instruction to Sterling College students during the academic year. The award was established in honor of Sterling College's fourth president, William M. McCreery, and has been awarded to one outstanding faculty member each year since 1977.
The student who nominated Nix said, "He cares about his students and has even opened up his home to us.  He is someone with a large amount of passion and that is evident in and out of the classroom." Other students mentioned liking his teaching style, his optimistic attitude, his aspiration to show Christ to his students, and his willingness to spend extra time helping students understand difficult material.
Dr. Gregory Kerr, vice president of academic affairs, said, "[The students' remarks] confirm the comments of the selection committee that he is caring and very relational.
"When he arrived at Sterling College, there was only one student majoring in his area. Now there are more than a dozen, with many more students participating in the departmental activities. He does an excellent job of blending majors and non-majors into the music programs."
Nix is also an active composer and arranger, having produced dozens of choral and piano pieces published through Shawnee Press.