Nix publishes piano book and CD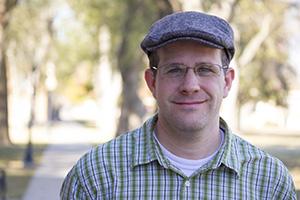 Thursday, November 8, 2012
Tuesday, Nov. 6, was a big day for the entire country, but for Sterling College Associate Professor of Music Brad Nix the day is significant for reasons outside of politics. On Tuesday, Nix's first book of piano arrangements, "Sketches in Ivory," was released for sale.
Published through Shawnee Press, the book consists of early American folk tunes, spirituals and hymns from the Sacred Harp tradition. The book has already acquired an Editors' Choice designation from J.W. Pepper, a major music distributor.
"It's very humbling for 'Sketches in Ivory' to have such a great honor bestowed on it," said Nix. "It was a fun project, and I really enjoyed recreating the songs. Coming from a southern background, the Sacred Harp songs are very familiar to me and hold a lot of meaning. I'm glad I had a chance to work on the project."
The book of arrangements is written for church pianists to play as special features and songs for piano students to play at recitals or piano contests.
An instrumental CD of Nix performing the arrangements, also titled "Sketches in Ivory," will be for sale soon. The piano book is currently available through Shawnee Press and other online music distributors. Many of the same websites are offering pre-orders for the CD.