Nua, Smith named SC Teachers of Promise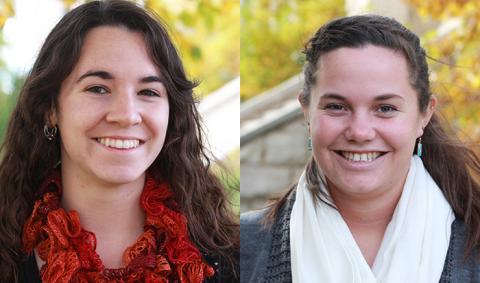 Monday, November 25, 2013
Seniors Erica Nua, of Palmdale, Calif., and Jessica Smith, of Lindsborg, Kan., have been named as the fall Sterling College Teachers of Promise. Two Teachers of Promise are selected each semester from a pool of candidates who will be clinical teaching the following semester and are recognized by Sterling College and the Kansas State Department of Education.
Criteria for the Teachers of Promise award relate to the key elements of the Sterling Teacher Education Program and include IDEAL attribute ratings for integrity, dependability, effective communication, appropriate attitude and leadership, along with overall grade point average and content and professional GPAs.
"We look for candidates who have a passion and enthusiasm for teaching and will represent the profession with excellence. I'm very pleased to have Jessica Smith and Erica Nua representing the Sterling Teacher Education Program as Teachers of Promise this fall. They are outstanding candidates, and I look forward to seeing their contributions to education in the future," said Terri Gaeddert, director of the Sterling Teacher Education Program.
Nua and Smith attended the Kansas Teacher of the Year Award Banquet in Wichita on Nov. 23. During the day, they participated in workshops that were presented by the KTOY team from the previous year. Nua and Smith were also recognized along with the other Teachers of Promise during the banquet.
"I enjoyed working with and learning from experienced teachers. It was a wonderful opportunity to connect with more professionals in my field. Being named a Teacher of Promise is really humbling and exciting, knowing that I have the belief of others who think I will be a good teacher. Because becoming a teacher is something I have always wanted, this opportunity means a lot to me and is extremely encouraging," said Nua.
"I gained new ideas from the Teacher of the Year candidates and fellow Kansas students. I was excited to meet everybody and collaborate together to think of how we can best serve our future students. To me, being named a Teacher of Promise is such a great honor. I'm thrilled that my professors have confidence in me and in my teaching abilities. This award also means that I am qualified when I am applying for my first teaching position," said Smith.
Sterling College is a Christ-centered, four-year college located in Sterling, Kan., with a mission to develop creative and thoughtful leaders who understand a maturing Christian faith. For more information, visit www.sterling.edu.