Nuest, Staton recognized for years of service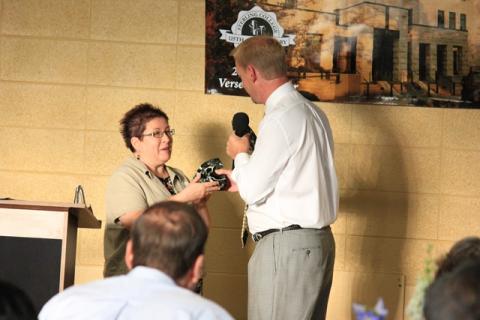 Wednesday, September 5, 2012
Arlen Nuest and Debbie Staton were recognized for their continued service to the College at the annual Kick Off Banquet. Nuest has served Sterling as a plumber and electrician for 25 years, and Staton has worked for the College in multiple capacities for 30 years.
Clay Thomas, director of the physical plant, said, "Arlen is constantly learning about something new through reading, school, the internet etc. He has a good common sense to problem solving which is greatly appreciated. He is a valuable asset to the service department. He is conscientious about his work and gives attention to how it looks and functions. Arlen is willing to help anyone and solve any problem."
Nuest also served as the physical plant director for 8 years during his tenure. He enjoys farming and woodworking. He used to run his own plumbing and electrical business, and now runs a trucking company.
Staton started at Sterling College in 1981 in the business office. She worked as a data processing clerk and cashier. She then transitioned to working as a bookkeeper in 1985, working with accounts payable and student accounts. Her final transition came in 1986 when she moved to bookstore manager.
"Staton continually works hard to make sure the latest trends are being displayed in our bookstore and looks for the best prices to offer our students," said Scott Rich, executive vice president and chief financial officer. "She is known for her hospitable spirit and staying in tune with the needs of students as the times change."
Staton says she enjoys working with the students. "It keeps me young. I love to help them and serve them throughout the year," said Staton.