One-Act Plays bring new actors to Sterling College stage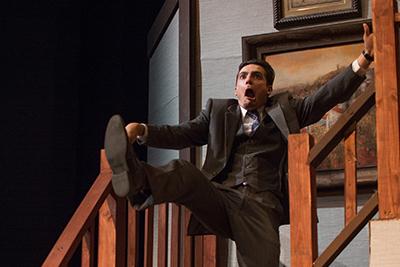 The annual Night of One-Acts at Sterling College will be presented on Saturday, May 5, in Culbertson Auditorium at 7:30 p.m. New and familiar faces will perform four short plays directed by members of the play directing class, as well as Jennie Czuba '10, Sterling's admissions and arts event coordinator, and Sasha Hildebrand '03, assistant professor of theatre arts. The events is free and open to the public.
"I'm very excited for the students in the play directing class to get an opportunity to show their theatrical skills in a different way. Being a director is a very different job than just being an actor on stage. You have to think about the whole picture and the different moving parts that come with a theatrical production," said Hildebrand.
"Anna and August" by Don Zolidis is a romantic comedy. Anna is the nerd of the school and has a hard time talking to boys, except August, but things between them become complicated by Tae Kwon Do, Anna's best friend Holly, and a French-Chinese restaurant. Directed by Elle Crook, of Piedmont, Kansas; the play features Kenzie Galloway of Sedgwick, Kansas; Xavier Madrigal of Newton, Kansas; Nick McCreight of Spring Hill, Kansas; Lexie Sutter of Topeka, Kansas; Seth Rogers of Wichita, Kansas; Kyra McGuire of Haven, Kansas; and Bethany Jenkins of Burns, Kansas.
"The Actor's Nightmare" by Christopher Durang is a comic play-within-a-play. It's the day of a performance by three famous stage actors. Unfortunately, one actor was in a car accident, and an accountant is mistaken for the understudy and shoved onstage to perform a play he knows nothing about. Directed by Bobby Foster of Sterling, Kansas, it features Jon Harding of Washington, Kansas; Lindy Smith of Sharon Springs, Kansas; Andrew Stansbury of Lorraine, Kansas; Becca Winsky of Salina, Kansas; and Kassidy Brandt of Eureka, Kansas.
Directed by Czuba, "Blue, Blue Moon" by John Patrick Bray is a short play in which a brother and sister, with the cremated remains of their father, are in the woods under a full moon when their younger selves start to play tricks on them. The cast includes Patrick Chuzel of Corona, California, and Kaleigh Pitre of Emory, Texas.
Hildebrand will direct a play to finish the night. The all-female cast will include Kaitlynn Little of Holton, Kansas; Anna Darcy of Burrton, Kansas; and Cassidy Puderbaugh of Coldwater, Kansas. Some alternative performances such as film and dance may also be included in the show.
The doors will open at 7 p.m. and the performance will start at 7:30 p.m. There is no admission cost for this event.
Sterling College is a Christ-centered, four-year college located in Sterling, Kansas, with a mission to develop creative and thoughtful leaders who understand a maturing Christian faith. For more information, visit www.sterling.edu.