Ortiz, Pinkerton selected for spring Teachers of Promise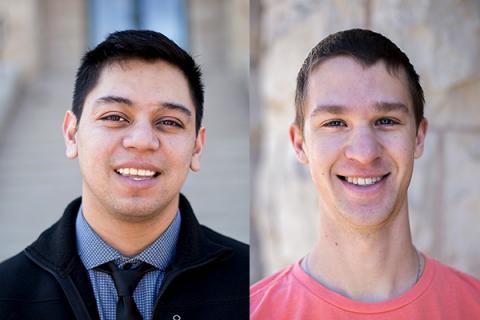 Tuesday, February 27, 2018
Tomas Ortiz of Lyons, Kansas, and Aaron Pinkerton of Dodge City, Kansas, represented Sterling College as the spring Teachers of Promise at the KEEN Conference in Topeka on Feb. 15-16, 2018. The students were recognized at the annual awards banquet.
Each semester, two students who will be clinical teaching the following semester are selected according to criteria that relate to the key elements of the Sterling Teacher Education Program and include IDEAL attribute ratings for integrity, dependability, effective communication, appropriate attitude and leadership, along with content, professional and cumulative GPAs.
"Sterling's Teacher Education Program has many quality candidates that represent content knowledge, and the character traits that a servant leader educator should consistently demonstrate. Each college may only select two candidates to attend the KEEN conference," said Rachel Wannamaker, chair of the Sterling College Department of Education.
"Aaron has successfully balanced excellence in the math education and professional education courses and is on the path to affect future math students in his classroom," said Wannamaker. "In the summer of 2016, he spent time in California helping create a mathematical tool that would accurately predict the success rate of endovenous laser ablation given the factors of the surgery. This past summer he worked in the Kids Cove summer program at Sterling grade school helping students with various activities. Further, Tomas is a conscientious student and enthusiastic future elementary teacher. He consistently displays compassion to students who need extra instruction and will provide a fun and stable classroom for every child. He has served as a paraprofessional in the Lyons school district for three years and has become a familiar face in the community through his service work coaching little league soccer. They both served as great representatives of Sterling College, and I consider them to be of exceptional quality in our program."
The recipients of Teachers of Promise awards from across the state meet at the KEEN Conference to learn from the Kansas Teacher of the Year Team. Topics include classroom management, hands-on activities, and general theory in practice.
Pinkerton has been involved in cross country as well as track and field and is a member of Kappa Mu Epsilon.
"Attending the KEEN conference was an experience I will not forget. I learned so much from so many experts in the field in such a short amount of time. What a privilege it was to learn from the best. Being a part of the State Department's presentation on their plan for Kansas schools was a good experience and produced a lot of excitement for me as I prepare to join in their mission," said Pinkerton.
Ortiz is a member of Sterling Teacher Education Program and STEP UP Leadership team. He has spent volunteer time at the library summer reading program in Lyons, as well as at Park Elementary Schools, which included reading to students.
"I'm honored to have been selected as the Teacher of Promise for Sterling College and to have been given the opportunity and privilege of attending the KEEN conference and represent Sterling College at such a wonderful conference," said Ortiz. "The opportunity to network and interact with experienced teachers and administrators that truly care about the students and future generations was truly appreciated."
"My favorite part of the conference was discussing different practices and ideas to not only improve classrooms, but whole schools. After attending the conference, I am excited to start my career as a teacher and prepare students to be well-rounded citizens who will have a positive impact in society and the world," said Ortiz.
Sterling College is a Christ-centered, four-year college located in Sterling, Kansas, with a mission to develop creative and thoughtful leaders who understand a maturing Christian faith. For more information, visit www.sterling.edu.