Pre-med students intern at Sterling Medical Center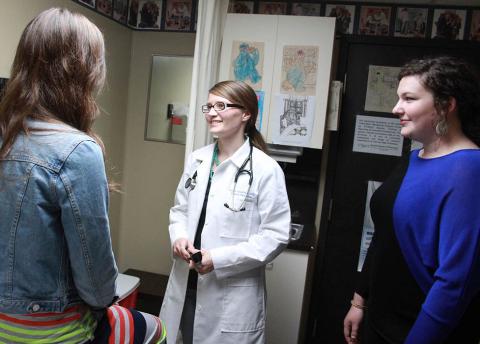 Five students in Sterling College's pre-med program have taken advantage of a collaboration between the College and the Sterling Medical Center to team up with physicians in the community to better understand the roles and responsibilities of physicians.
Participants in the pre-med program are encouraged to intern with a health-care provider during their junior or senior year in order to get exposure in the field. The purpose of the internship is for students to observe physicians to gain knowledge of how to interact with patients in the variety of situations doctors encounter. During their observations, the students maintain detailed records of their experience and reflect on what they learned following the completion of the internship.
"These internships provide a great opportunity for students to connect with medical professionals and help them make valuable connections between what is learned in the classroom and what is done in the workplace," said Dr. Jonathan Conard, assistant professor of biology. "This type of experience is critical in helping to prepare students for successful careers in the medical field."
Dr. Stacy Dashiell '03 is one of the family physicians who works with SC students and has been an advocate for the partnership with the Sterling Medical Center.
"Medicine is about so much more than chemistry and biology; it is about patient relationships" said Dashiell. "Being a physician is more of an art than a science. That is why I believe it is vital for students even in the pre-med stage to see medicine in action."
Junior Kaylee Beutler of Clay Center, Kan., is currently participating in an internship, shadowing Dashiell at the Sterling Medical Center and has already been able to see the benefits from her time.
"It's evident to me that Dr. Dashiell is invested in my learning because she takes the time to explain things to help me better relate to patients one day," said Beutler. "This internship has provided me with confirmation that I am supposed to pursue a career in the medical field, and it has been really neat to see what I have learned in class put into practice."
Other participants in the pre-med internship over the past two years include Michala Henderson of Wichita, Kan., Katy Nininger of Reserve, N.M., Brennan Hodge of Chandler, Ariz., and Reynaldo Rivera of Punta Santiago, Puerto Rico.