Projects and volunteers needed for 5th annual Love Sterling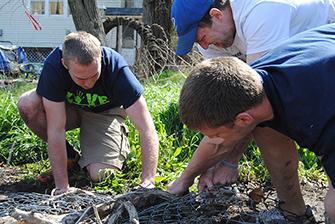 In order to show appreciation for the town of Sterling, on April 26, volunteers will assemble to complete service projects that give back to the community during the 5th annual Sterling College Love Sterling event.
Love Sterling is an event that began in 2010 as a way for the students, faculty and staff of Sterling College to show their appreciation for the community of Sterling.
"The students at Sterling College love the Sterling community, and our annual Love Sterling day of service and dinner celebration is one way we are able to show it," said Ashley Barnes, public relations coordinator.
"The Love Sterling planning committee is collecting projects for this year's Love Sterling event, so we wanted to invite the community to request projects or donate supplies. Projects could be anything from working in the lawn to painting," said Barnes.
The deadline for requesting a project is Friday, April 4. Forms are available to request a project, to donate supplies, or to volunteer by visiting www.sterling.edu/love-sterling or Broadway Market. Project requests can also be sent to Barnes at (620) 278–2173 or abarnes@sterling.edu.
The annual celebration dinner will be held at the Sterling Lake with music and games beginning at 5 p.m. A free dinner will be served at 6 p.m. by Chartwells, the College's dining service.