Redondo directs "The Odd Couple" at Sterling College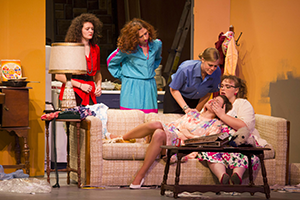 Wednesday, November 7, 2012
Michael Redondo, senior at Sterling College, will direct his senior show, "The Odd Couple," this Friday and Saturday, Nov. 9-10, in Culbertson Auditorium at 8 p.m. The show, written by Neil Simon, will be the female version of the play and is rated PG for mild adult content.
"The Odd Couple," is based on the relationship between mismatched roommates Olive Madison and Florence Unger. The humorous play is filled with witty comments as the tension between the two main characters rises throughout the show.
Redondo is studying communications with an emphasis in theatre arts and a minor in Christian ministries. He has been very involved in the theatre productions during his time on campus, having acted in six productions and managed four. Through his experience at Sterling College, Redondo found his true passion in stage managing. Since then, he has managed "Godspell," "Children of Eden," "Picnic," and the Sterling community's summer production of "The Drowsy Chaperone."
Redondo is from Norco, Calif., and is the son of Robert and Mary Redondo.
The cast of "The Odd Couple" includes Larissa Versaw of Canon City, Colo., as Olive Madison, Emily Zerger of Derby, Kan., as Florence Unger, Darsha Bechard of Belleville, Kan., as Sylvie, Rachel Gardner of Topeka, Kan., as Mickey, Sara Joliff of Wichita, Kan., as Vera, Lexi Rutberg of Fort Collins, Colo., as Renee, Phil Taylor of Norco, Calif., as Jesus Costazuela and Sened Tesfay of Chicago, Ill., as Manolo Costazuela.
Tickets will cost $8 for adults and $5 for seniors and students. The box office will open on show nights beginning at 7 p.m. and doors will open at 7:30 p.m.