Rep. Bob Bethell, NAC Member, Dies in Car Accident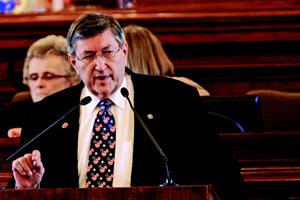 Sterling College has learned that Rep. Bob Bethell died in a car accident Sunday, May 20, 2012. Bob served as our 113th district representative since 1999. Bob also served Sterling College as a member of our national advisory board for many years and also worked as our director of admission and enrollment development in the early '80s.
"We are deeply saddened by this news. Sterling has lost not only a great advocate for higher education, but a great friend. We will deeply miss Bob's partnership in our community," said Scott Rich, executive vice president and chief financial officer.
Governor Sam Brownback has ordered flags be flown a half-staff in honor of Bob Bethell until his interment later this week