Rev. Robert Hopper to Speak at Baccalaureate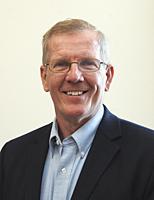 Sterling College recently announced Rev. Robert Hopper of Orlando, Fla., as the speaker for the 2012 Baccalaureate ceremony. The ceremony will take place Friday, May 11, at 7:30 p.m. in Culbertson Auditorium on the Sterling College campus.
Hopper was recently named the interim pastor at Eastminster Presbyterian Church in Wichita, Kan. His official duties will begin on Sunday, May 13. Prior to coming to Wichita, Hopper pastored Pioneer Presbyterian Church in Ligonier, Penn., planted a new congregation in Williamsburg, Va., and was the senior pastor of North Park Evangelical Presbyterian Church in Pittsburgh, Penn. The Hoppers are committed to serving congregations who are experiencing transition, but their long term focus is to serve the Lord in Russia.
Hopper and his wife Tacey met at Grove City College in Grove City, Penn. They both graduated from Gordon-Conwell Seminary in Charlotte, N.C. They have three children and eight grandchildren. Their daughter Jessie and her family teach English in Asia, and their sons Seth and Luke are in the military.
Photo courtesy of Southport Presbyterian Church.