Robert Burns Night returns to SC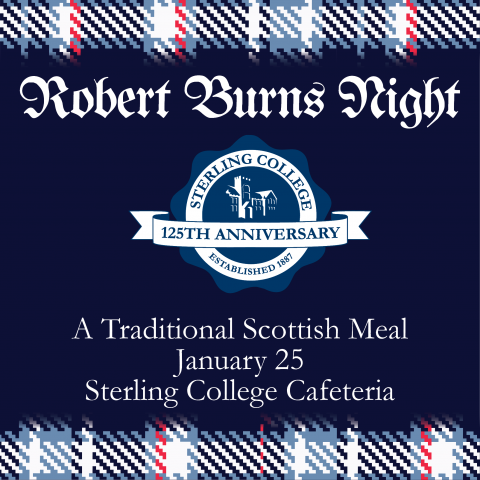 Wednesday, January 9, 2013
After an 11 year hiatus, Sterling College is bringing back Robert Burns Night as part of the 125th anniversary of the College. The event recognizes the achievements of Robert Burns, Scottish poet and songwriter, and is celebrated by Scottish communities worldwide on his birthday, Jan. 25. The public is invited to attend the celebration which will include a traditional Scottish meal in the Sterling College cafeteria.
"We are hoping to revive the tradition of Robert Burns Night," said Diane DeFranco Kling, faculty emeritus who has helped plan the event. "The tradition started in 1983 as a way to remember the College's Scottish background and was continued for 20 years. I am excited to celebrate the event again. We had a great time in years past."
Robert Burns Night will begin at 6:00 p.m. with tea and scones, followed by dinner at 6:30 p.m. Chef Quintin Eason planned the dinner to closely reflect a traditional Scottish meal from the late 1700s. Professor Emeritus Gordon Kling will host the event and read "Ode to a Haggis," a poem written by Burns. Other poems by Burns will be read along with remembrances of the homeland from those who have spent time in Scotland. The Highland Singers will perform songs composed by Burns and the evening will conclude with the traditional singing of "Auld Lang Syne."
Tickets for the event are $15.25 and can be purchased online or by mailing a check made out to Sterling College to Sterling College, 125th Committee, 125 W. Cooper, Sterling, KS 67579. Reservations must be made by Jan. 18.