Roszel, Wise awarded with Sterling College Young Alumni Award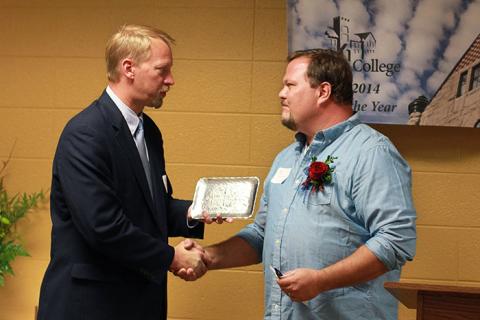 Each year Sterling College recognizes a young alumni who has made significant contributions to their profession and community in 15 or less years after graduating. For the 2013 Young Alumni Award, Sterling College chose Kate Wise '04 of Salina, Kan., and awarded a posthumous award to Kristy (Kalivoda) Roszel '02.
"These two alumnae have so many accomplishments that there wasn't any question on whether or not they deserved the Alumni Honor. It was a little over a year ago that Kristy died in a car accident, but the legacy she left behind was more than deserving of this honor," said Amy Thompson '96, director of alumni and parent relations.
As a student, Roszel lived in McCreery Hall, played on the women's soccer team and volunteered multiple times to work with Habitat for Humanity. She graduated from SC with a degree in art and worked as a school picture photographer for Lifetouch, where her contributions to society continued to grow.
"She was personally requested by schools to be the photographer on picture day. They knew she would help the students be at ease by smiling and being friendly. Her close friend told me, '[Kristy] felt it was not her responsibility to take a picture, but to do what she could in a few seconds to let a kid know they were special and beautiful. She made a point of finding a compliment for each kid.' She also prayed with her coworkers whenever the opportunity came up. She was a great example of servant leadership, and it was an honor to present her husband with a Young Alumni Award in her honor," said Thompson.
Wise was also awarded the Young Alumni Award for her contributions to the field of library science and hospitality toward other alumni. Kate graduated from Sterling with a degree in communication and theatre arts and was frequently in the costume shop in Spencer Hall as an undergraduate student. After graduation, she worked with the Crown Uptown in Wichita, helping costume their shows. Shortly after, she began graduate school at Emporia State University where she earned a master's degree in library science. Wise is currently a library technician at Kansas Wesleyan University in Salina, Kan.
As an advocate, Wise has spoken at several library conferences including those in Wichita, Salt Lake City, Utah, and Bologna, Italy. She is also piloting an online teen summer library program which is in the process of being published in several academic journals. In 2012, she was selected for the Kansas Library Association Presidential Award for New Professionals.
"Kate said that she is 'passionate about advocating libraries as necessary for the health of any community.' With her continual efforts to involve the next generation in reading and library use, she simultaneously serves the community and her profession. Kate loves imparting knowledge and supporting her fellow Sterling College alumni," said Thompson.
Sterling College is a Christ-centered, four-year college located in Sterling, Kan., with a mission to develop creative and thoughtful leaders who understand a maturing Christian faith. For more information, visit www.sterling.edu.