Saenger receives 2021 McCreery Teaching Award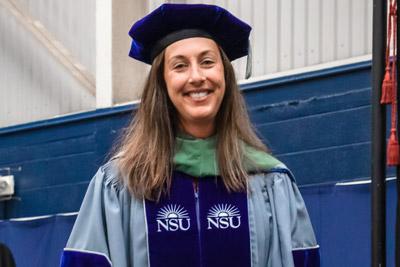 Dr. Lindsey Saenger, assistant professor of exercise science at Sterling College, was given The William M. McCreery Teaching Award as part of the College's Commencement ceremonies on Saturday, May 15, 2021. The award recognizes and encourages excellence in teaching and is presented to a faculty member whose efforts have provided noteworthy and innovative instruction to Sterling College students during the academic year. The award was established in honor of Sterling College's fourth president, William M. McCreery, and has been awarded to one outstanding faculty member each year since 1977.
Saenger has taught at Sterling College for four years and is a leader on campus in several capacities. In addition to being an assistant professor, she is the co-chair for her department and has led it through a curricular redesign of the Exercise Science program. 
Saenger is described by students as engaging, saying, "She is the most hands-on professor I've ever had. She takes the time to make sure we understand the content thoroughly and draws a focus on becoming successful in the classroom." Another said, "You are an amazing professor! I love taking your classes because you take your time so that everyone in the classroom understands the material. I wouldn't change a thing about my experiences in this course!"  
Saenger is described by the faculty that teach alongside her at Sterling College as professional, saying, "Her professional and academic expertise has been invaluable in developing rigorous, data-focused courses.  She keeps expectations extremely high, while still breaking down complex and scientific concepts in a way that is easily understood by students of all talent levels."
Sterling College is a Christ-centered, four-year college located in Sterling, Kansas, with a mission to develop creative and thoughtful leaders who understand a maturing Christian faith. For more information, visit www.sterling.edu.