SC Alumnus works with Harlem Globetrotters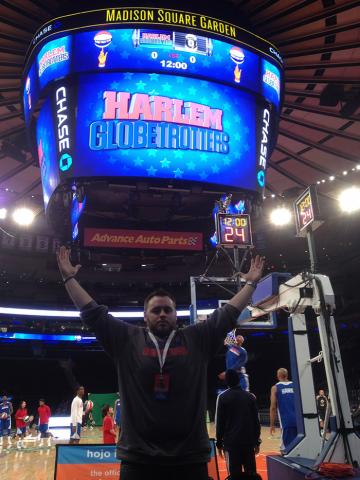 When Jared Brown '11 came to Sterling College to study athletic training, he had no idea where his major would lead him. Brown, who currently works at PT Plus Physical Therapy in Andover, Kan., just finished a month-long job working as an athletic trainer for the Harlem Globetrotters.
Brown found out about the opportunity from Athletic Director Todd Carter at Butler Community College. He met Carter when he attended BCC after high school. Carter told Brown about the opportunity, and Brown applied immediately. Three days later, he was packing to leave for the East Coast.
"Being with the Globetrotters was an opportunity that I couldn't pass up. It was an experience of a lifetime to work with such a prestigious and classy organization. Working with that caliber of people was amazing," said Brown.
The Harlem Globetrotters team that Brown was with traveled through Michigan, Ohio, New York, Massachusetts, Connecticut, Maryland, Delaware and Canada. They played up to nine games a week and traveled every day. Brown said that his training at Sterling College enabled him perform well under the busy and tiring schedule.
"There's no way I could have done this without Sterling College. The athletic training program prepared me so well. The opportunities I had [at SC] and the experiences I got there prepared me for everything. The amount of time we spent in the athletic training room working with the other athletic training students and being in charge of younger athletic training students prepared me for what I was going to encounter," said Brown.
"The attitude of servant leadership was my biggest takeaway. It gave me a better relationship with the athletes I worked with on the Harlem Globetrotters team because I was there to serve them. I learned to build those relationships [in Sterling's program]," said Brown
Although the facilities were nice and the athletes were high-profile, Brown said playing in Madison Square Garden in front of 17,000 people was the coolest part of the experience.
Now that the month-long job is over, Brown will return to his work at PT Plus Physical Therapy. He is working toward his master's degree in health, physical education and recreation through Emporia State University Online and should be finished around December 2014. He hopes to find a job with a sports outreach program or as an athletic trainer.
"Sterling College prepared me for anything that comes my way—children, high school or college athletes, professional athletes. I was prepared for just about anything," said Brown.