SC athletic training students earn academics honors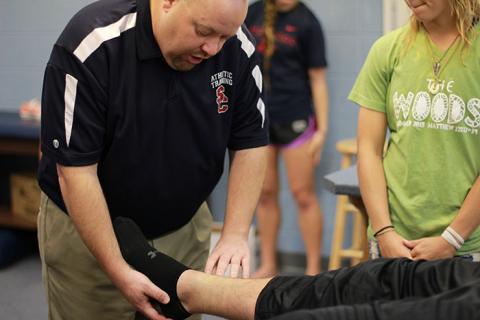 The Sterling College Athletic Training Program had 16 students recognized by the Kansas Athletic Trainers' Society for outstanding academic achievement. Based on grade point average and academic standing, KATS recognized 107 students from across the state of Kansas who attend athletic training programs accredited by the Commission on Accreditation of Athletic Training Education.
"We are proud to have 15 percent of the top athletic training students in Kansas come from Sterling College's Athletic Training Program. We had more students awarded KATS honors than any other private Christian school and were second in the entire state. Our athletic training students work hard, but they quickly see the payoff in graduate school opportunities and recognition from organizations such as KATS," said Pete Manely, director of the Athletic Training Program.
Students receiving KATS First Team All-Academic honors must be a junior or above with a minimum grade point average of 3.8. Sterling College students receiving this honor are Lori Dauer of Falun, Kan.; Robin Flowers of Meade, Kan; Nicci Navarro of Santa Fe Springs, Calif.; and Michael Utter of Peoria, Ariz.
Two SC students earned Second Team All-Academic honors. These students are a junior or above with a minimum GPA of 3.6. Students include Brennan Hodge of Chandler, Ariz., and Alyssa Kieffer of Clifton, Kan.
KATS Honorable Mention All-Academic honors are awarded to students who are a junior or above with a minimum GPA of 3.4. Sterling College students who were given this award include Jenna Arlow of Palmar, Ark.; Kate Brickell of Valley Falls, Kan.; Kansas Cruise of Wichita, Kan.; Ashley Goering of Inman, Kan.; Becky Garsha of Olathe, Kan.; Joshua Hoover of Elbing, Kan.; Emlyn Ngiratmab of Susanville, Calif.; Kaylee Schell of Buena Vista, Colo.; Sara Steria of Bend, Ore.; and Megan Yoder of Hutchinson, Kan.
All grade point averages were figured using the average of their spring 2013 gpa, fall 2013 gpa and cumulative gpa.
The Kansas Athletic Trainers' Society helps assure top quality health care to the physically active in Kansas, and promotes and increases knowledge of the profession of athletic training to the citizens of the state of Kansas.