SC Awarded 'Military Friendly School'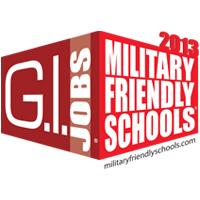 Tuesday, September 25, 2012
Victory Media named Sterling College to their 2013 Military Friendly Schools list. The list honors the top 15 percent of colleges, universities and trade schools that exhibit leading practices in the recruitment and retention of students with military experience and their spouses.
Victory Media is a service-disabled, veteran-owned small business.
"We are pleased to be named a Military Friendly School," said Scott Rich, executive vice president and chief financial officer of Sterling College. "We believe that Sterling College Online and our Guaranteed Admission Advantage partnerships with Kansas community colleges and Hesston College strengthen our ability to provide convenient and affordable education for our military and veteran students."
Sean Collins, director for G.I. Jobs and vice president at Victory Media, said, "Inclusion on the 2013 list of Military Friendly Schools shows Sterling College's commitment to providing a supportive environment for military students."
Sterling College is approved by the Department of Veterans Affairs, offers tuition discounts for military and veteran students, and participates in the Yellow Ribbon Program, a provision of the law that was created by the Post-9/11GI Bill. Academically, Sterling supports its military students by allowing them to fulfill class requirements by awarding credit by examination on specified College Level Examination Program tests and DANTES Subject Standardized Tests, a program developed by the Department of Defense. Sterling also does not penalize students who are called for active duty.
Now in its fourth year, the list of Military Friendly Schools was compiled through extensive research and a data-driven survey of more than 12,000 VA-approved schools nationwide. This year's list includes 1,739 colleges, universities and trade schools. A complete survey methodology is available at http://www.militaryfriendlyschools.com/Article/methodology-press-kit.
Victory's free, data-driven, Military Friendly lists can be found at www.gijobs.com/2012Top100, www.militaryfriendlyschools.com and www.militaryfranchising.com. Victory's lists are also published in G.I. Jobs, Military Spouse, Vetrepreneur magazines, republished in national and local periodicals and are frequently cited on national and local TV stations.