SC connections draw in new staff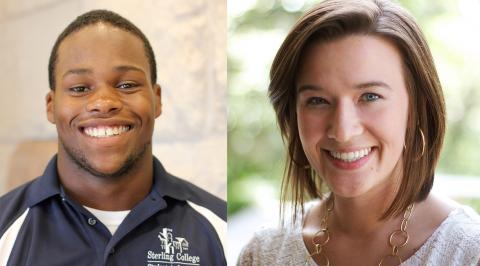 Sterling College announced the hire of Renard Ballard '14 and Erica Tremaine during the month of July. Ballard will begin as assistant resident director of Kilbourn Hall in mid-July, and Tremaine began her role as the administrative receptionist and office manager July 1.
Ballard graduated from Sterling College this May with a B.A. in Psychology. During his time as a student, he served as a resident assistant in Kilbourn Hall for two years and played football. This summer, he worked as the discipleship coordinator at Westminster Woods Summer Camp where he was in charge of developing and implementing the Christian education curriculum for each of the week-long camps. Ballard is from Dayton, Ohio.
Tremaine, who has lived in the area since 2004, will oversee guest and conference services, switchboard, the Love Sterling community project, the master calendar, and provide administrative support for the Office of the President. Her father, Mark Tremaine, served as the dean of students for the College from 2004-06 and will return in the fall as a faculty member for the criminal justice major.
"I'm really excited to be back in Sterling. The faculty and staff at the College have been so great to work with as I begin my new position; I feel truly blessed to be here. I am looking forward to the return of students this fall. The excitement of preparing for a new semester has already begun," said Tremaine.
She graduated in 2013 from Harding University with a B.S. in Child Life. Before coming to Sterling College, she worked as a certified medical assistant at The Arbors at Waldron Place in Hutchinson, Kan. She also volunteers at the Crisis Pregnancy Center in Hutchinson.