SC Football wins KCAC Conference Title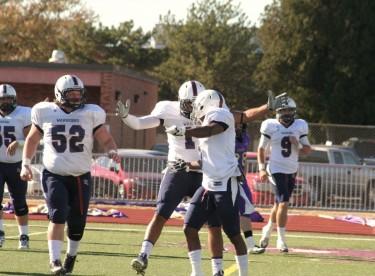 Monday, November 18, 2013
The Sterling College Football team traveled to Salina, Kan. on Saturday to take on the Kansas Wesleyan University Coyotes in the final game of the historic 2013 season. The Coyotes got the best of the Warriors in the first half but Sterling would break free in the second half and score 29 unanswered points to win it first KCAC football title in school history with a final score of 36-19.
The first half looked very bleak for the Warriors, Sterling was not able to get into an offensive rhythm and were down 7-0 before a Reggie Langford to Antonio Bray 36 yard touchdown pass to tie the game. On the next offensive possession, the Warriors were forced to punt and a bad snap caused the Coyotes to convert a safety for a 9-7 score just before Kansas Wesleyan would score twice on a rushing touchdown and a field goal to end the half with a score of 19-7.
Sterling came out in the second half with a determination in their eyes that couldn't be stopped. Marquis Miller started the scoring for the Warriors and brought the score to 19-14.
After a turnover cause by the Sterling defense, Langford would find Antonio Bray for a 71-yard touchdown pass for Bray's second touchdown of the game. Knowing that this was their opportunity to take a significant lead, the Warriors went for two and Langford found Miller in the corner for a 2-point conversion. This would bring Sterling's first lead of the night and would be 22-19 lead.
Cedrique Smith, Mar E Whitson, and TJ Dunks would all make the costly interceptions thrown by the Coyotes into points for Sterling. Marquis Miller would help capitalize on one turnover and rush into the endzone for his second score of the night and a 29-19 score.
To cap of a great day in Sterling Football history was Antonio Bray's ability to break free after catching the ball. Langford would find Bray and Bray would go 92 yards all the way to the house to seal the victory and KCAC title for Sterling 36-19.
Bray's final line for the day was seven receptions for 214 yards with three touchdowns.
Defensively, the Warriors came out the second half and played like they have all year, causing turnovers. The Warriors caused five turnovers on the day and Kris Lehmann helped with two fumble recoveries and had 10 tackles in the game.
With this win, the Sterling Warriors are KCAC Champions and heading to the national tournament next Saturday. The Warriors will find out whom they play at the NAIA Selection Show on Sunday at 3:00 PM.
Sterling College is a Christ-centered, four-year college located in Sterling, Kan., with a mission to develop creative and thoughtful leaders who understand a maturing Christian faith. For more information, visit www.sterling.edu.