SC named 'Military Friendly School'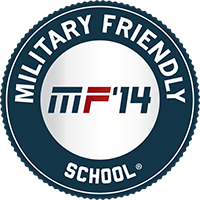 Friday, September 20, 2013
Sterling College has been named on the 2014 Military Friendly Schools list by Victory Media. This list examines over 12,000 different colleges, universities and trade schools that have been approved by the Department of Veterans Affairs through a data-driven survey and selects the top 15 percent of these schools that exhibit a strong interest in the recruitment and retention of students with military experience.
"Sterling College is honored to be named a Military Friendly School for the second year in a row. We commend the young men and women who serve in the military, and we do our best to accommodate these students in whatever way we can," said Scott Rich, president of Sterling College.
Being a VA-approved school, Sterling College provides tuition discounts for military and veteran students, offers no penalization for students called for active duty, and allows military students to fulfill class requirements by accepting credits from DANTES Subject Standardized Tests and College Level Examination Program tests. Sterling College also participates in the Yellow Ribbon Program, a provision of the Post-9/11 GI Bill.
Rich McCormack, president of Victory Media, said, "Competition for the 2014 Military Friendly Schools list was fierce, and as a result we raised the already stringent criteria to a higher benchmark. [Sterling College] is among the elite competing for military students."
This is the fifth year that Victory Media has compiled the Military Friendly Schools list. Keeping this list updated every year provides a resource for those military students who are pursuing higher education. The entire list can be seen at www.militaryfriendly.com.
Victory Media is a service-disabled, veteran-owned small business and has been serving the military community since 2001.
Sterling College is a Christ-centered, four-year college located in Sterling, Kan., with a mission to develop creative and thoughtful leaders who understand a maturing Christian faith. For more information, visit www.sterling.edu.